La Maison Ruinart & le chef Arnaud Donckele sont à découvrir sur THE RIGHT NUMBER MAGAZINE n°3.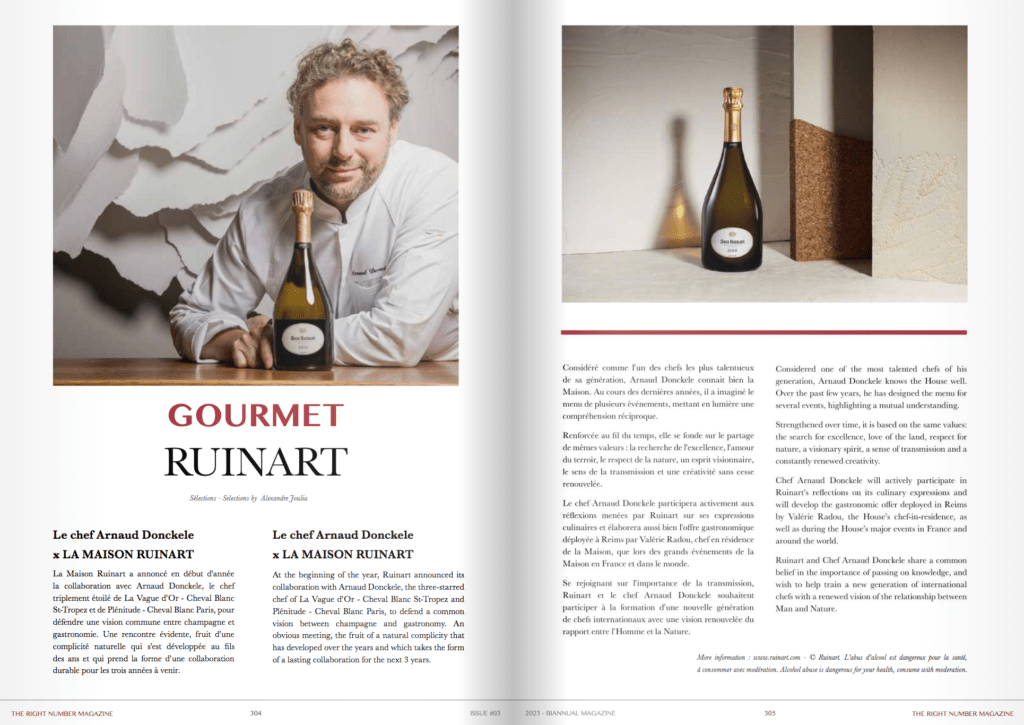 Considéré comme l'un des chefs les plus talentueux de sa génération, Arnaud Donckele connait bien la Maison. Au cours des dernières années, il a imaginé le menu de plusieurs événements, mettant en lumière une compréhension réciproque. Renforcée au fil du temps, elle se fonde sur le partage de mêmes valeurs : la recherche de l'excellence, l'amour du terroir, le respect de la nature, un esprit visionnaire, le sens de la transmission et une créativité sans cesse renouvelée.

Le chef Arnaud Donckele participe activement aux réflexions menées par Ruinart sur ses expressions culinaires et élaborera aussi bien l'offre gastronomique déployée à Reims par Valérie Radou, chef en résidence de la Maison, que lors des grands événements de la Maison en France et dans le monde.

Se rejoignant sur l'importance de la transmission, Ruinart et le chef Arnaud Donckele souhaitent participer à la formation d'une nouvelle génération de chefs internationaux avec une vision renouvelée du rapport entre l'Homme et la Nature.
Lire la suite sur THE RIGHT NUMBER MAGAZINE n°3 – Le magazine est disponible à l'achat à l'unité ou en abonnement sur Viapresse, Fnac et Cdiscount. Numéro collector de 442 pages.
https://www.viapresse.com/abonnement-magazine-the-right-number.html?mc_cid=36adbe91cc&mc_eid=UNIQID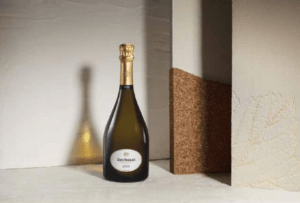 SÉLECTIONS :
Alexandre Joulia, photographe et rédacteur en chef adjoint AMILCAR MAGAZINE GROUP & THE RIGHT NUMBER MAGAZINE
Rachel Joulia-Helou, rédactrice en chef AMILCAR MAGAZINE GROUP & THE RIGHT NUMBER MAGAZINE
AMILCAR MAGAZINE à découvrir sur Linktree : https://linktr.ee/amilcarmagazine
AMILCAR MAGAZINE GROUP
ABONNEMENT Amilcar Magazine & THE RIGHT NUMBER MAGAZINE :
CLUB AMILCAR GROUP :