A LA UNE – POLARIS VINTAGE DATE.
Le choix de la rédaction.
Tout est une question de temps que nous cherchons à maîtriser. Tout est question de sens, de signature et de précision. La Maison Jaeger-LeCoultre en témoigne avec la POLARIS VINTAGE DATE qui sera toujours dans son temps, une montre collector et vintage tout en élégance. C'est tout simplement mon coup de coeur, une montre pour homme avec du caractère et une beauté tout en « simplicité », en apparence bien sûr, mais ne serait-ce pas cela le luxe : une beauté simple avec une touche de caractère. Pour moi, POLARIS VINTAGE DATE me raconte une histoire, l'histoire de cet homme élégant plein de charme qui prête attention aux objets qui ont du sens, qui regarde le monde différemment, qui sait prendre son temps et qui ne cherche en aucun cas à le maîtriser. Cet homme peut regarder la beauté pendant des heures, sans s'en soucier. Voilà, l'histoire qu'évoque pour moi POLARIS VINTAGE DATE.

Rachel Joulia-Helou, rédactrice en chef THE RIGHT NUMBER MAGAZINE.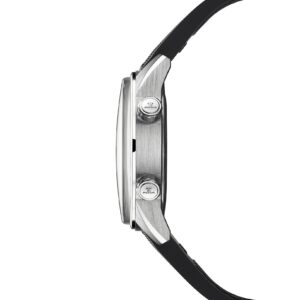 Inspirée de la Memovox Polaris de 1968, la collection Polaris a défini l'esprit d'élégance sportive chez Jaeger-LeCoultre. Fonctions utiles, codes esthétiques vintage et performances chronométriques de pointe caractérisent la collection Polaris.

Modèle emblématique de Jaeger-LeCoultre, la Memovox Polaris est un pilier de l'horlogerie utilitaire depuis son lancement en 1968. Alors que les montres de plongée occupent une place essentielle dans toute collection de montres de sport, peu d'entre elles ont conservé un succès aussi constant au fil des décennies.
Grâce à ses multiples finitions texturées, la Polaris Vintage Date favorise la lisibilité sans faire le moindre compromis sur son design. Un mélange équilibré de surfaces opalines, grainées et soleillées vient définir clairement chaque segment clé de ce cadran – de la lunette intérieure à la minuterie. La laque translucide qui revêt le cadran lui donne une profondeur envoutante et fait ressortir ses index teintés couleur vanille pour une parfaite clarté.
Le principal atout de la collection Polaris réside dans son haut niveau de performances en conditions extrêmes. Dotée d'un fond de boîtier transparent, la Polaris Vintage Date est étanche jusqu'à 200 mètres, ce qui en fait une montre adaptée aussi bien à un paysage urbain qu'aux profondeurs de l'océan.
Avec ses 42 mm de diamètre, le boîtier de la Polaris Vintage Date reste synonyme de raffinement grâce à ses surfaces satinées, aux chanfreins polis de ses cornes et à sa lunette étroite. Tous les regards sont ainsi attirés par le cadran, mis en valeur par un verre bombé évoquant celui en Plexiglas des montres du milieu du siècle dernier.
Pour une polyvalence maximale, la Polaris Vintage Date se porte avec un bracelet en caoutchouc équipé d'un système de changement rapide. Il suffit de quelques secondes pour remplacer ce bracelet par l'un des nombreux modèles Jaeger-LeCoultre parfaitement compatibles.
Reflétant son héritage, ses index revêtus de Super-LumiNova® aux teintes vanille sont le signe d'une esthétique qui a su traverser les décennies. Son boîtier en acier de 42 mm abrite le Calibre 899, mouvement de dernière génération offrant 70 heures de réserve de marche. Aujourd'hui plus que jamais, la Polaris est la montre de sport élégante parfaite pour une vie d'aventure.

Informations :
https://www.jaeger-lecoultre.com/eu-fr
https://www.jaeger-lecoultre.com/eu-fr/watches/polaris/polaris-date-stainless-steel-q9068671
POLARIS DATE – 9 750 €
Informations techniques :
Dimensions : 42 mm
Calibre : calibre mécanique automatique Jaeger-LeCoultre 899AB
Fonctions : Heure-minute, seconde, date, lunette intérieure tournante
Réserve de marche : 70 heures
Fréquence : 28 800 alt/h
Cadran : laqué noir avec finitions opalines, grainées et soleillées
Boîtier : acier inoxydable
Fond du boîtier : ouvert
Etanchéité : 200 m
Bracelet : bracelet en caoutchouc noir interchangeable
Référence : Q9068671
Coup de coeur de la rédaction : Rachel Joulia-Helou, rédactrice en chef THE RIGHT NUMBER MAGAZINE.