A Daring Defender: Tockr Introduces New Hydro Dipped Air Defender Series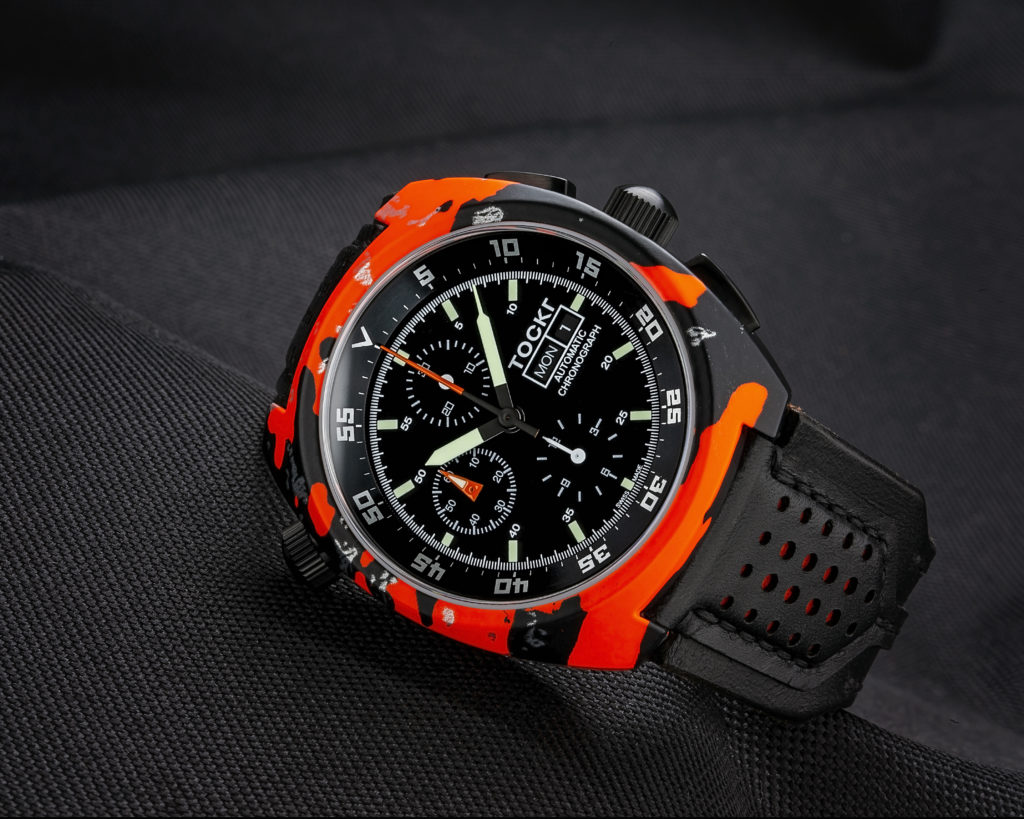 American watch brand Tockr has taken its classic Air Defender Chronograph and given it a bold new graphic treatment using the art of hydrographic image transfer. To date, hydrographic printing has been most broadly applied in the worlds of motorsport and industrial design. Tockr is the first watch brand in its price segment and one of few watch brands in the world to produce hydro dipped watches.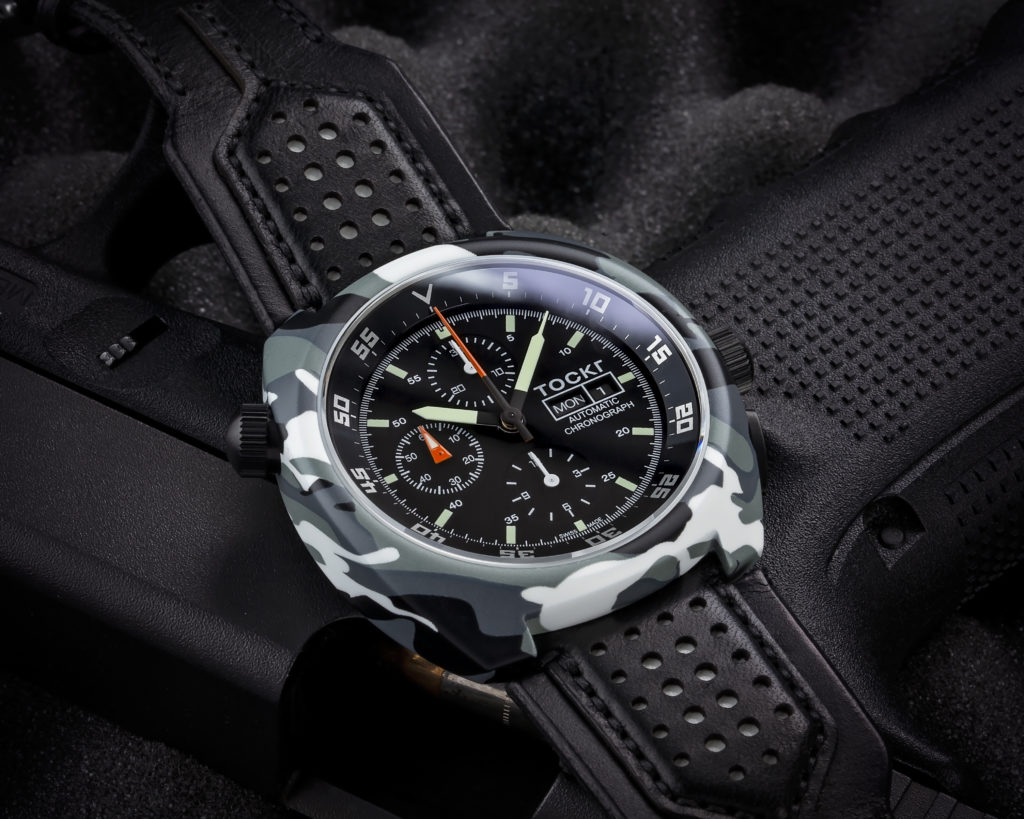 The new Hydro Dipped Air Defender feature cases wrapped in daring designs including Tie-Dye, Magma, black or blue Carbon, and black or Hulk (green) Camo. Collectors can also commission a custom Hydro Dipped case from a library of colorful graphic themes, textures, and designs like pink camo, wood effect, fire, animal prints, and more. Custom Tockr Hydro Dipped models can be delivered in as soon as four weeks.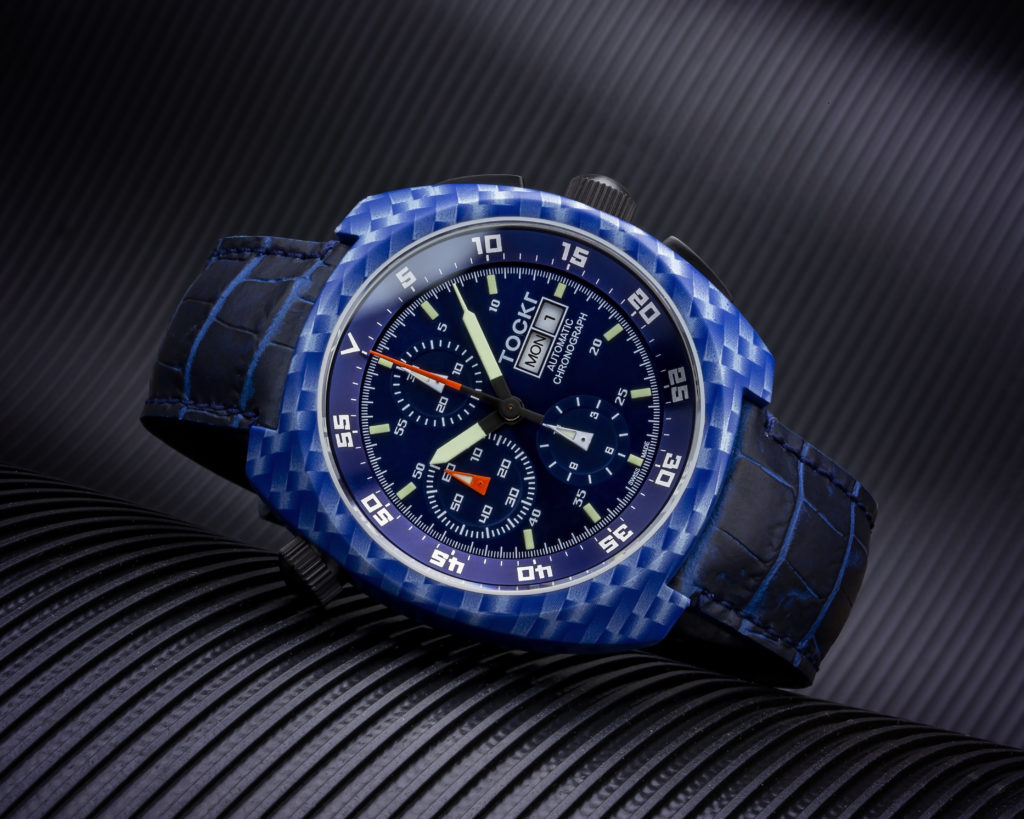 La marque horlogère américaine Tockr a pris son classique Air Defender Chronograph et lui a donné un nouveau traitement graphique audacieux utilisant l'art du transfert d'images hydrographiques. Jusqu'à présent, l'impression hydrographique a été la plus largement appliquée dans le monde du sport automobile et du design industriel. Tockr est la première marque horlogère dans son segment de prix et l'une des rares marques horlogères au monde à produire des montres à immersion hydraulique.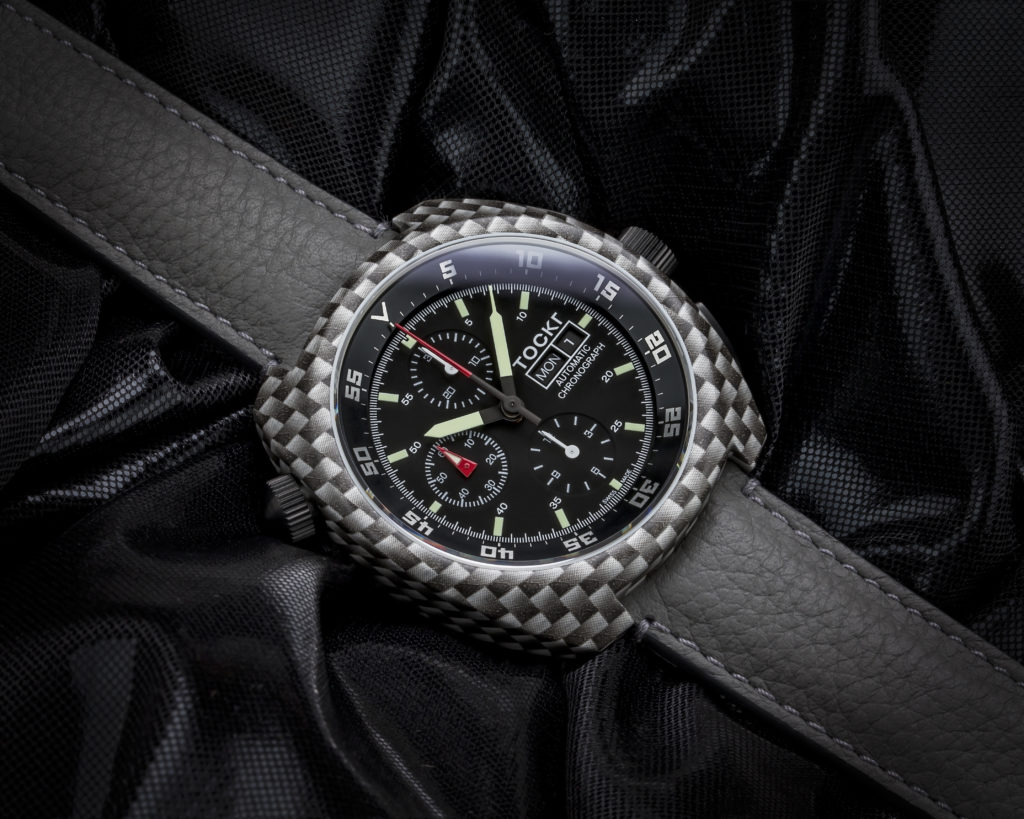 Les nouveaux étuis Hydro Dipped Air Defender sont dotés de motifs audacieux tels que Tie-Dye, Magma, Carbone noir ou bleu, et Camo noir ou Hulk (vert). Les collectionneurs peuvent également commander un étui Hydro Dipped personnalisé à partir d'une bibliothèque de thèmes graphiques colorés, de textures et de motifs comme le camouflage rose, l'effet bois, le feu, les imprimés animaux, et plus encore. Les modèles Tockr Hydro Dipped personnalisés peuvent être livrés en quatre semaines.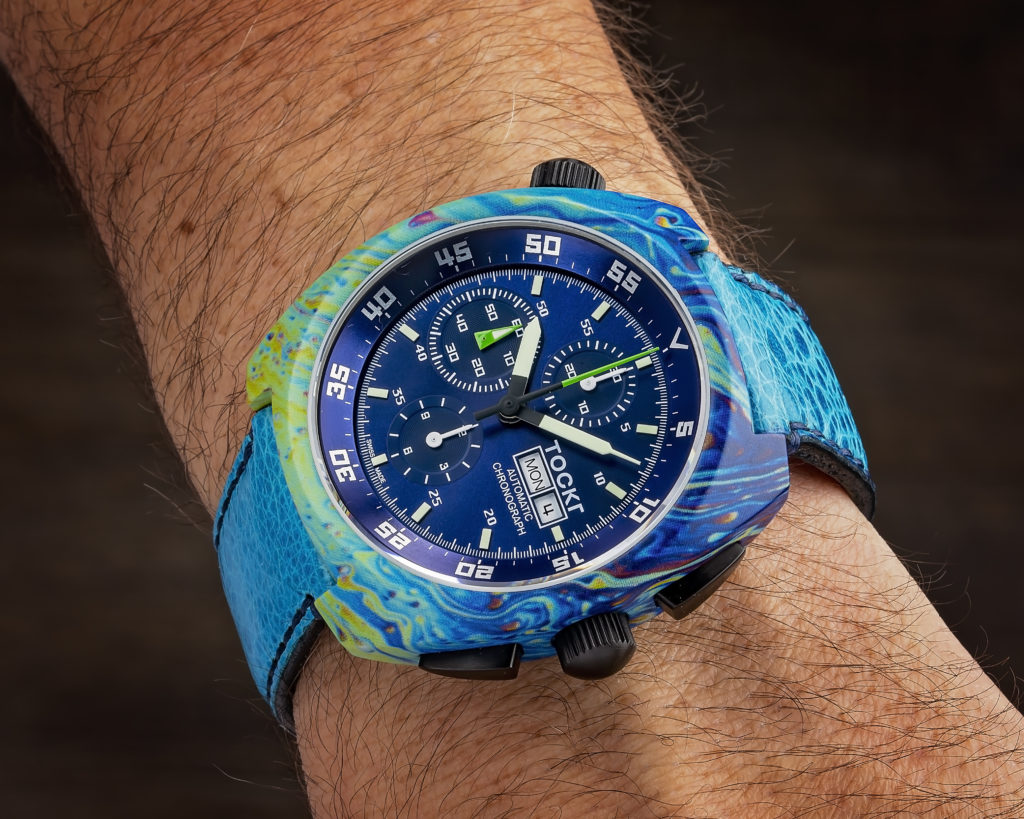 The Hydro Dipped Air Defender series comes with exclusive coordinated strap options including hand-stitched calfskin, alligator, or toad leather straps, and each dial colorway can also be purchased with a custom "Stealth" strap produced by Tockr for the Air Defender series in partnership with the HIX Design studio out of Oklahoma City. The hand-cut and stitched custom "Stealth" straps are flared at the lugs, tapered at the buckle, and feature a raised and perforated section near the lugs with leather colors custom coordinated to each dial.
Each Hydro Dipped Air Defender Tockr model comes with a 2-year international warranty, and the collection retails for $2,850 at tockr.com.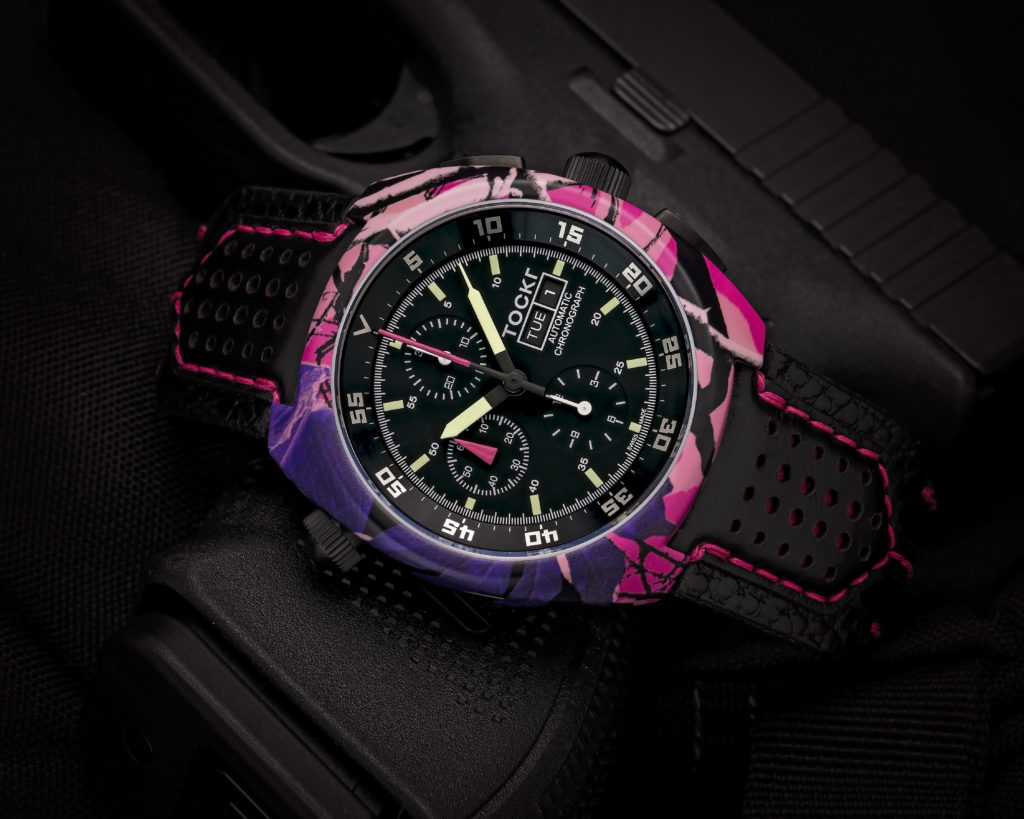 La série Hydro Dipped Air Defender est livrée avec des options exclusives de bracelets coordonnés comprenant des bracelets en veau cousu main, en alligator ou en cuir crapaud, et chaque coloris de cadran peut également être acheté avec un bracelet « Stealth » personnalisé produit par Tockr pour la série Air Defender en partenariat avec le studio HIX Design, situé à Oklahoma City. Les bracelets « Stealth », coupés et cousus à la main, sont évasés au niveau des cornes, effilés au niveau de la boucle et comportent une partie en relief et perforée près des cornes, avec des couleurs de cuir adaptées à chaque cadran.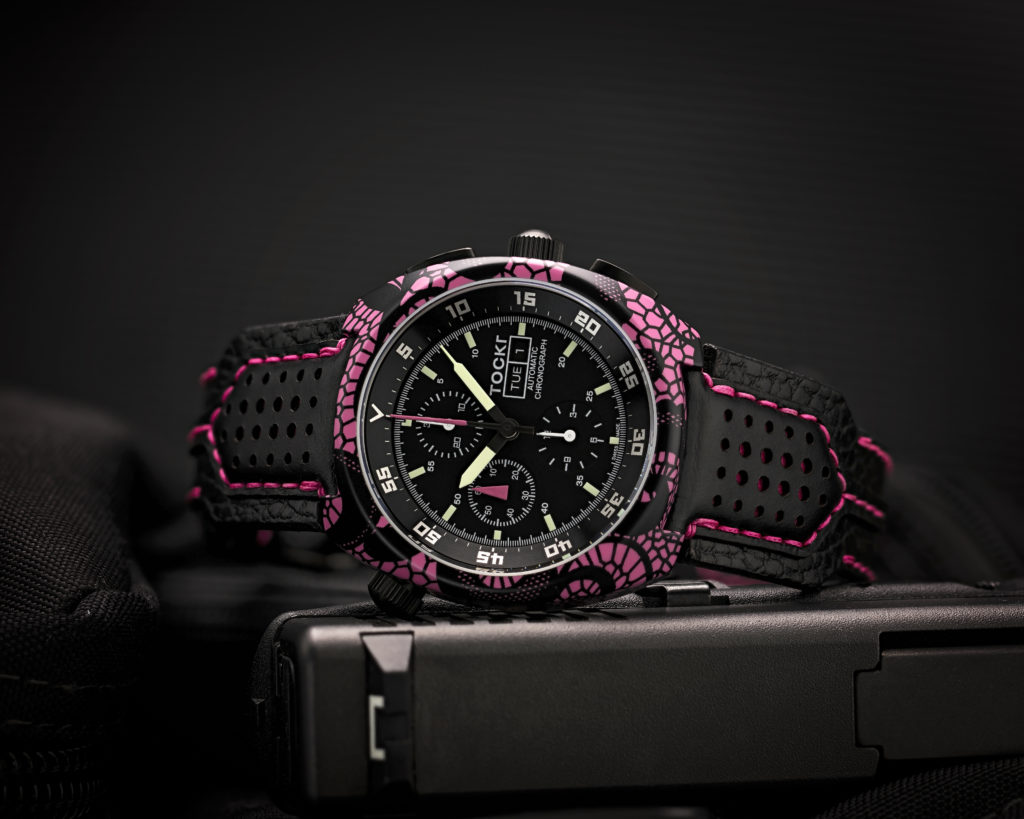 Chaque modèle Tockr Hydro Dipped Air Defender Tockr est livré avec une garantie internationale de 2 ans, et la collection se vend 2 850 $ chez tockr.com.
About Tockr™: Tockr™ is an American watch brand with a Swiss-made heart, founded in Austin, Texas in 2017. Inspired by his own experience as a pilot and the legacy of his grandfather, a U.S. Army pilot who flew C-47 aircraft during World War II, Founder Austin Ivey set out to combine his lifelong passions of watches and aviation in an accessible collection of aviation-inspired watches. In a short time, Tockr's iconic C47 and Air Defender watch collections have already captured the imagination of watch enthusiasts around the world. Discover the universe of Tockr at tockr.com.