Fondée en 2013 à Kyoto par l'ancien mannequin et directeur de création Masaki Matsukawa avec l'aide du styliste Kohei Okamato, Duren s'exprime dans la création de maroquinerie de luxe.

Duren c'est d'abord une boutique à Kyoto, plusieurs points de vente au Japon, puis en 2008, une boutique DUREN à Paris (37, rue Debeylleme Paris 3e) avec un e-shop qui dévoile les belles collaborations artistiques (www.duren.fr)… Depuis quelques années, Duren se développe à l'international : chez Corso Como à Milan, à Londres chez Feathers …

La marque a connu un succès qui n'est plus à prouver : le Good Design Award au Japon, le A Design Award en Italie et l'IF Design Award en Allemagne. Duren c'est aussi une marque porteuse de sens et d'échanges, d'ouverture vers le monde entre le Japon et les autres pays. Avec aucune limite de forme, Duren impose une vision forte et encore une fois affirmée de l'art. On ne porte pas un sac mais une oeuvre d'art.

Rachel Joulia-Helou, rédactrice en chef AMILCAR MAGAZINE GROUP & THE RIGHT NUMBER MAGAZINE.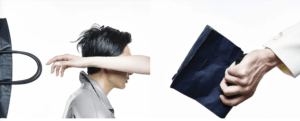 « Le vrai sens de l'art n'est possible qu'à ceux qui font de l'art une influence vivante. »

Okakura Kakuzo*
Planification, fabrication et vente de produits en cuir n'ont pas de secret pour l'entreprise nipponne.
Les concepts sont masculins, tout en offrant une touche androgyne et classique aux produits. En pleine expansion à l'international, la marque est aujourd'hui présente sur quatre continents.
Remarqués pour leur poids plume et leur alliage cuir froissé ultra mince et aluminium, les sacs Duren bouleversent les codes de la maroquinerie en donnant à ses créations la véritable apparence d'un sublime et subtile papier. Un trompe l'œil judicieux et plein d'audace qui force
l'admiration.


Tous fabriqués au Japon, les produits ont rapidement été récompensés de plusieurs prix prestigieux du monde du design et de la mode, et sont généralement produits en édition limitée autour de 10 exemplaires.
Par ailleurs, Duren se démarque par ses collaborations exceptionnelles. Il est du devoir des plus grands de ne s'entourer que des meilleurs, Masaki Matsukawa le sait. Et pour cause, les partenariats sont des plus prestigieux: David James (directeur artistique de Prada), Shantell Martin (street artiste newyorkais), Emmanuelle Vernoux (brodeuse haute couture) et Benoit Pierre Emery (styliste, directeur de création pour Hermès) … 

Ainsi, épurés et simples, les modèles se parent toutefois de couleurs et de formes toujours plus modernes et créatives. Si l'art de la vie consiste en une réadaptation constante au milieu,
Duren en est la pleine incarnation.
Une marque qui saura sans aucun doute nous émerveiller avec de belles surprises pour 2023…
Propos : Tommy Paulmaz
Avant-propos & Citations :
Rachel Joulia-Helou, rédactrice en chef AMILCAR MAGAZINE GROUP & THE RIGHT NUMBER MAGAZINE.
L'avis de la Rédaction :
La musique, la poésie, la haute couture et l'art font partie de mon ADN. J'ai trouvé la marque qui allie une certaine musicalité dans la forme, une signature entre mode et haute couture, une vision artistique conceptuelle pleine de sens et de caractère et une poésie dans les lignes …

Duren est une marque de sacs à main de luxe, certes, mais c'est également une affirmation de soi, une virilité artistique et un classicisme pointu. Cette marque pour hommes avec le concept de « sex-appeal intérieur » a su casser les codes et imposer un style unique où seul le design compte. L'affirmation comme leitmotiv où la femme forte a toute sa place.

C'est une marque reconnue pour son savoir-faire dans le domaine du luxe et spécialement dans celui du cuir (avec une expertise de la technique du façonnage de cuir).  Les techniques sont très abouties avec une maîtrise exceptionnelle du « Crinkle leather » (cuir froissé), une fusion du cuir et l'aluminium … 

Rachel Joulia-Helou, rédactrice en chef AMILCAR MAGAZINE GROUP & THE RIGHT NUMBER MAGAZINE.
Coup de coeur : Alexandre Joulia, photographe et rédacteur en chef adjoint AMILCAR MAGAZINE GROUP & THE RIGHT NUMBER MAGAZINE.
AMILCAR MAGAZINE GROUP :
SUBSCRIPTION – ABONNEMENT | AMILCAR MAGAZINE & THE RIGHT NUMBER MAGAZINE :