PRESENTATION DE L'EVENEMENT ET DE LA COLLECTION 
MARDI 27 JUIN 2017 à partir de 14h
Événement piercing « live » et présentation de la nouvelle collection JACQUIE AICHE en présence de la créatrice.
Le Club Amilcar était présent lors de la présentation de la nouvelle collection de Jacquie Aiche chez Mad Lords (Rue Saint Honoré). Tout d'abord, commençons par une petite présentation de cette créatrice talentueuse.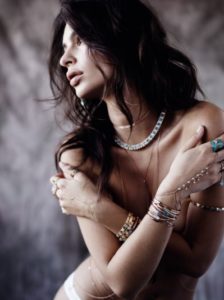 TUESDAY, JUNE 27, 2017 : Live piercing event and presentation of the new JACQUIE AICHE collection in the presence of the designer.
Club Amilcar was present at the presentation of Jacquie Aiche's new collection at Mad Lords (Rue Saint Honoré). First, let's start with a small presentation of this talented designer.
Jacquie Aiche …
Jacquie Aiche est une créatrice de bijoux présente aux Etats-Unis . C'est dans ses origines égyptiennes – américaines que Jacquie Aiche trouve son inspiration et construit son style distinctif.  La combinaison de ces deux héritages créent une esthétique et un équilibre sensuel et sauvage.  Jacquie Aiche aime prendre des risques et faire des choses différentes, ce qui explique sûrement les raisons de son succès.
Jacquie Aiche is a jewelry designer present in the United States. It was in his Egyptian – American origins that Jacquie Aiche found his inspiration and built his distinctive style. The combination of these two heritages creates an aesthetic and a sensual and wild equilibrium. Jacque Aiche likes to take risks and do different things, which surely explains the reasons for her success.
Pour sa nouvelle collection, Jacquie Aiche s'imprègne des influences du Moyen-Orient avec l'Or martelé, les amulettes aux formes architecturales typiques de la culture égyptienne mais également de l'imagerie des dieux.  La créatrice utilise également beaucoup de pierres précieuses comme l'agate, des diamants, des reliques turquoises d'origine amérindienne.  L'utilisation et la finesse des matériaux utilisés apporte sensualité, délicatesse et élégance à chacune des femmes qui porteront ces bijoux.
For his new collection, Jacquie Aiche is imbued with Middle Eastern influences with hammered gold, amulets with architectural forms typical of Egyptian culture but also imagery of the gods. The designer also uses many precious stones like agate, diamonds, turquoise relics of Amerindian origin. The use and the finesse of the materials used brings sensuality, delicacy and elegance to each of the women who will wear these jewels.
Cette collection unique aura de quoi vous faire briller les yeux !This unique collection will make you shine your eyes!
L'ÉGERIE … LA DEESSE EMILY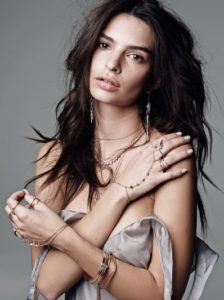 Emily est une déesse des temps modernes, à la fois femme sauvage et naturelle et hyper bohème chic… Une parfaite combinaison pour la marque JACQUIE AICHE. EMILY est un doux prénom mais c'est également l'égérie californienne la plus demandée par les marques. C'est une femme caméléon, un top model reconnu à travers le monde. C'est également une femme engagée !
Emily is a goddess of modern times, both wild and natural woman and hyper bohemian chic … A perfect combination for the brand JACQUIE AICHE. EMILY is a gentle name but it is also the California muse most requested by brands. She is a chameleon woman, a top model recognized throughout the world. She is also a committed woman!
13.8 m abonnés sur Instagram : https://www.instagram.com/emrata
Emily Ratajkowski, née le 7 juin 1991 à Londres, est une mannequin et actrice américaine. Elle fait ses premiers pas d'ac­trice, à l'âge de 13 ans, en appa­rais­sant dans A Year and a Day, le film ne marque pas les esprits ! Fina­le­ment, elle se tourne vers le mannequi­nat et signe son premier contrat à 14 ans avec Ford Models. Elle conti­nue ses études en parral­lèle et commence même à suivre des études à UCLA, mais arrête très rapi­de­ment afin de se consa­crer à sa carrière de mannequin.
Emily Ratajkowski, born on 7 June 1991 in London, is an American model and actress. She made her first actresses, at the age of 13, appearing in A Year and a Day, the film does not mark the spirits! Eventually, she turned to modeling and signed her first contract at 14 with Ford Models. She continues her studies in parallel and even begins to study at UCLA, but stops very quickly in order to devote herself to her career as a model.
COLLECTIONS : 
MAD LORDS
316, Rue Saint-Honoré, cour Principale
RÉSEAUX SOCIAUX
SUIVEZ MADLORDS SUR LES RÉSEAUX SOCIAUX
Plus d'informations sur EMILY / More informations : https://fr.wikipedia.org/wiki/Emily_Ratajkowski
Propos / Written by : Rachel Joulia-Helou & Agathe Chaignaud