Et, oui Harley-Davidson® fête ses 120 ans ! Une telle occasion mérite un voyage unique pour les passionnés Harley-Davidson. La collection Anniversaire vous offre bien plus encore : sept modèles en série limitée, avec des peintures, des finitions et des éléments haut de gamme pour célébrer avec fierté 120 années de savoir-faire. Alors, en route vers une destination inédite ou l'occasion de se rendre au Festival Harley-Davidson Homecoming™. L'événement de Budapest ne sera pas seulement une célébration de 120 ans d'histoire.
Le Festival européen du 120e Anniversaire Harley-Davidson se déroule du 22 au 25 juin, en plein coeur de l'Europe, à Budapest.
Découvrir sur THE RIGHT NUMBER MAGAZINE n°3.
Le magazine est disponible à l'achat à l'unité ou en abonnement sur Viapresse, Fnac et Cdiscount. Numéro collector de 442 pages.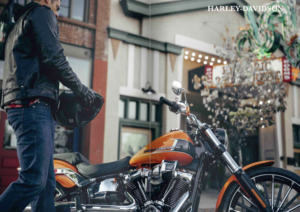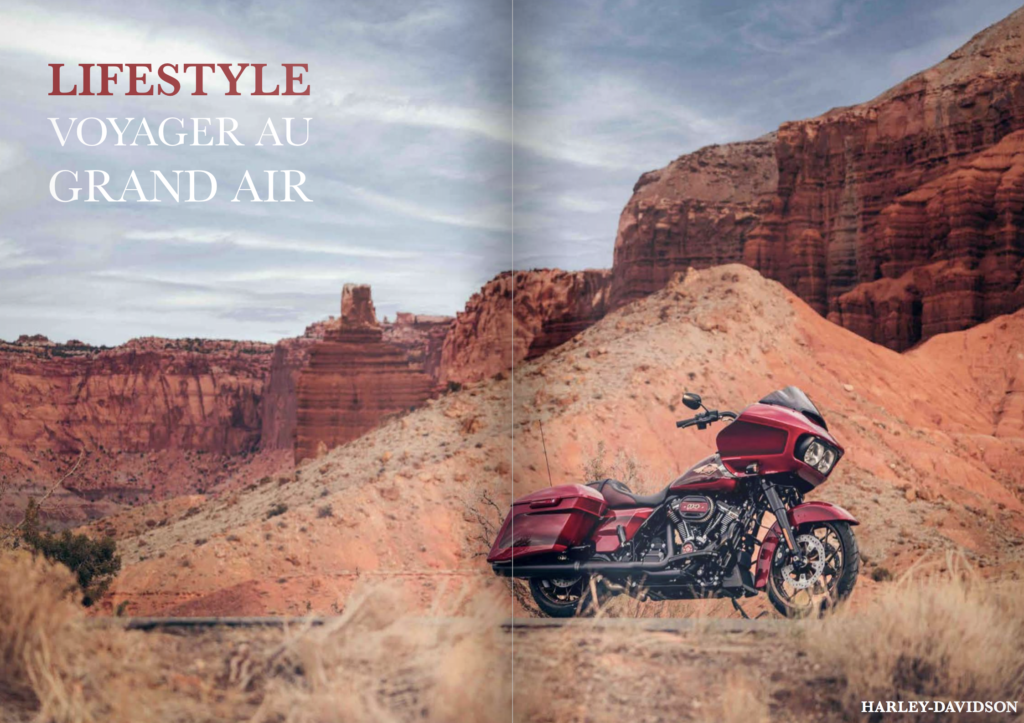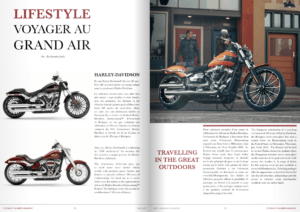 NEWS HARLEY-DAVIDSON
HARLEY-DAVIDSON LANCE UNE NOUVELLE ICÔNE AVEC LE MODÈLE ELECTRA GLIDE® HIGHWAY KING
La Collection Icons propose un voyage dans les « Swingin' 60s »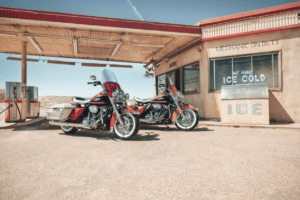 Le modèle Electra Glide® Highway King, le troisième opus du programme de la Collection Icons Harley-Davidson, plonge dans la nostalgie. Les roues à rayons entrelacés, les pneus à flancs blancs, le pare-brise bicolore, la selle solo suspendue et les couleurs soigneusement sélectionnées sont inspirés par une véritable icône Harley-Davidson : le modèle FLH Electra Glide® de 1968, une moto qui a régné sur la route à une époque où les cartes routières en papier et les hamburgers à 15 cents étaient de mise. Le modèle Electra Glide® Highway King en série limitée combine le style des Swingin' 60 avec le confort et la technologie d'une moto Grand American Touring Harley-Davidson® moderne.
La Collection Icons est un programme annuel qui repose sur le lancement d'un nouveau modèle en série limitée offrant une nouvelle interprétation d'une moto Harley-Davidson® emblématique. Membre d'une Collection exclusive, chaque modèle est numéroté et produit une seule fois. La production mondiale du modèle Electra Glide® Highway King ne dépassera pas 1 750 exemplaires.
L'icône
Le modèle Electra Glide® de 1968 était au sommet de la gamme des motos Harley-Davidson®. Les motards qui souhaitaient un peu plus de confort et de commodité pouvaient commander le leur avec l'ensemble d'accessoires King of the Highway, qui ajoutait des sacoches en fibre de verre, un pare-brise, un porte-bagages sur le garde-boue arrière et des protections moteur.
« En son temps, c'était une moto vraiment de luxe » déclare Brad Richards, Vice-Président du Design et Directeur de création chez Harley-Davidson. « Les couleurs que nous avons sélectionnées pour le modèle Highway King rappellent les options de couleurs originales proposées en 1968. Nous avons soigneusement intégré un rappel de chaque couleur dans la partie inférieure du pare-brise. En 1968, les sacoches en fibre de verre en accessoires n'étaient proposées qu'en blanc, nous avons donc fait de même en 2023. Le résultat est une moto résolument moderne qui a l'air résolument old school. »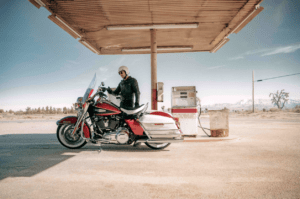 Le modèle Highway King sera proposé dans deux options de couleur : Hi-Fi Orange (limité à 1 000 exemplaire) et Hi-Fi Magenta (limité à 750 exemplaires). Les sacoches rigides de couleur Birch White et le flanc de réservoir en Black Denim se distinguent de la couleur principale par une bande décorative Birch White. L'insigne de réservoir est très similaire à celui utilisé en 1968. Un motif de la Collection Icons et un numéro de série sont gravés au laser sur l'insert de la console. Livré avec des silencieux Screamin' Eagle montés en concession.
Le pare-brise amovible arbore une section inférieure teintée d'une couleur assortie à la couleur de la peinture. La selle solo, qui arbore un revêtement noir et blanc et un rail chromé, montée sur un ressort réglable et un amortisseur, est un autre clin d'œil au style des modèles Harley-Davidson® FL des années 1960. Des roues à rayons en acier chromés et de larges pneus à flancs blancs ajoutent au look nostalgique, tout comme les rails de garde-boue avant et les rails de sacoche chromés brillants, la jupe de garde-boue avant et le cache du filtre à air Ventilator. Une inscription Electra Glide est placée de chaque côté du garde-boue avant.
Le modèle Electra Glide® Highway King appuie sa conception sur un cadre Harley-Davidson® Touring à longeron unique faisant office de colonne vertébrale rigide. L'ensemble du châssis est conçu pour le long terme. Un bouton permet d'ajuster la précharge des amortisseurs arrière à émulsion pour optimiser le qualité du pilotage et le contrôle en fonction de la charge de la moto. La fourche de 49 mm qui intègre une technologie de suspension à soupape offre des caractéristiques d'amortissement linéaires pour bénéficier d'une conduite souple.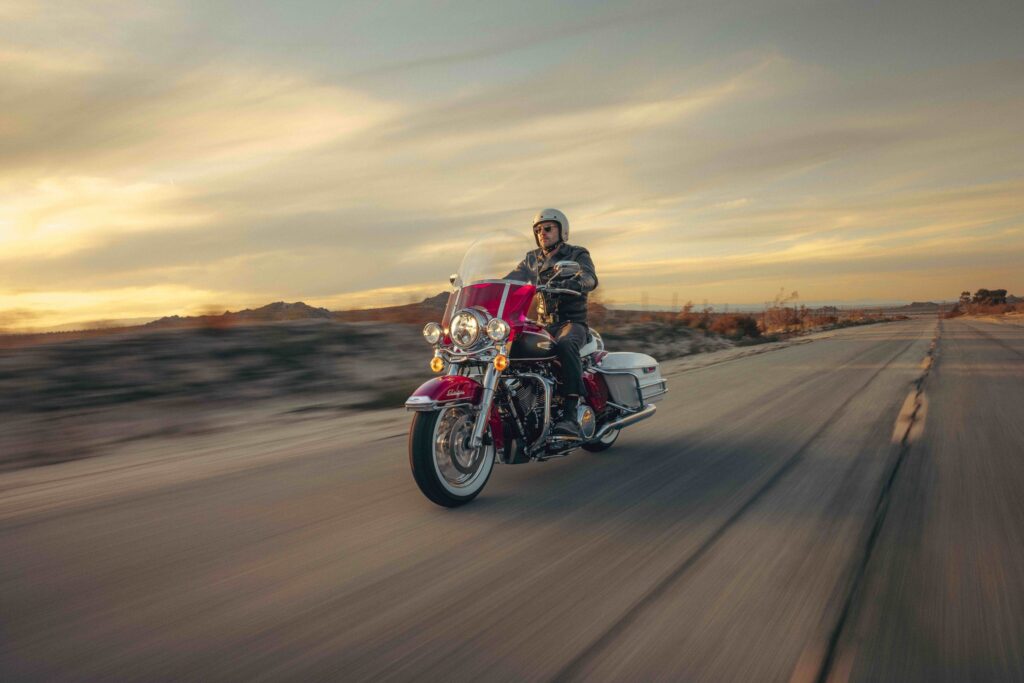 Le moteur Milwaukee-Eight® 114 V-Twin délivre sa puissance avec autorité. Pour satisfaire les motards qui souhaitent optimiser les performances, ce moteur accepte tous les kits de mise à niveau Stage Screamin' Eagle® Harley-Davidson®. Le régulateur de vitesse électronique proposé en série maintient une vitesse constante pour plus de confort lors des longs trajets. Le phare halogène et les feux auxiliaires offrent une qualité d'éclairage exceptionnelle tout en conservant le style nostalgique. Les freins Brembo® Reflex™ interconnectés assurent la puissance du freinage. Une suite complète d'améliorations de la sécurité du pilote par Harley-Davidson sont proposées en série dont le système de freinage ABS amélioré en virage, le freinage électronique interconnecté amélioré en virage, le système de contrôle de traction amélioré en virage, le système de contrôle du couple résiduel en virage et le contrôle de maintien du véhicule.
Prix Icon « Highway King » : à partir de 38 900€ TTC – Échappement SE livré séparément et inclus dans le prix
Harley-Davidson est synonyme de quête perpétuelle d'aventure et liberté. Rendez-vous sur H-D.com pour en savoir plus sur la gamme complète de motos Harley-Davidson® Grand American Touring, Sport, Adventure Touring, Cruiser et Trike 2023, les motos d'occasion Harley-Davidson Certified™, les Pièces & Accessoires d'origine Harley-Davidson®, les équipements Harley-Davidson® MotorClothes® et les Harley-Davidson Financial Services.
A propos d'Harley-Davidson
Harley-Davidson, Inc. est la maison mère de la Harley-Davidson Motor Company et de Harley-Davidson Financial Services. Notre vision : construire notre légende et insuffler l'innovation, l'évolution et l'émotion dans nos fabrications. Notre mission : nous ne construisons pas seulement des motos. Nous offrons la liberté. Freedom for the soul. Depuis 1903, Harley-Davidson permet d'accéder à la liberté en proposant une gamme de motos remarquables, des expériences de pilotage, et une gamme complète d'accessoires, équipements et vêtements. Harley-Davidson Financial Services proposent des produits de financement, d'assurance et d'autres programmes pour aider les propriétaires de Harley-Davidson à vivre leur passion intensément.
Plus d'informations sur https://www.harley-davidson.com/fr/fr/index.html. 
SÉLECTIONS :
Rachel Joulia-Helou, rédactrice en chef AMILCAR MAGAZINE GROUP & THE RIGHT NUMBER MAGAZINE
Alexandre Joulia, photographe et rédacteur en chef adjoint AMILCAR MAGAZINE GROUP & THE RIGHT NUMBER MAGAZINE
AMILCAR MAGAZINE à découvrir sur Linktree : https://linktr.ee/amilcarmagazine
AMILCAR MAGAZINE GROUP
ABONNEMENT Amilcar Magazine & THE RIGHT NUMBER MAGAZINE :
CLUB AMILCAR GROUP :