AUGUSTE, success story – À découvrir sur The Right Number Magazine n°3
Une notoriété fulgurante et réellement méritée, prouvant que la french touch séduit toujours autant. Récemment, une pièce d'Auguste s'est vendue 20 000€ au Global Gift Gala, gala de charité d'Eva Longoria.
AUGUSTE, est un enfant du Périgord, qui voit son talent exposé sur les murs des foires internationales et des plus importantes galeries de Paris, Los Angeles, New York, Miami ou encore Tokyo mais aussi sur les murs de grands collectionneurs du monde entier.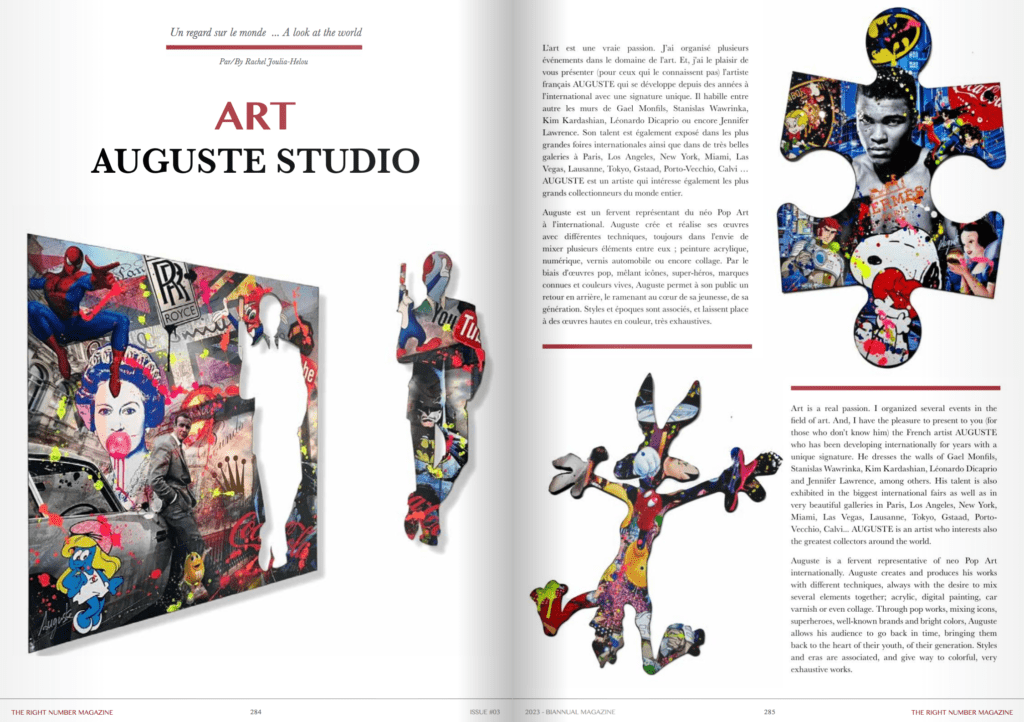 Nous vous invitons à découvrir son univers sur son site ou sur instagram :
@augusteartiste : International Artist in 43 art galleries around the world
Lire la suite sur THE RIGHT NUMBER MAGAZINE n°3 – Le magazine est disponible à l'achat à l'unité ou en abonnement sur Viapresse, Fnac et Cdiscount. Numéro collector de 442 pages.
https://www.viapresse.com/abonnement-magazine-the-right-number.html?mc_cid=36adbe91cc&mc_eid=UNIQID
SÉLECTIONS :
Rachel Joulia-Helou, rédactrice en chef AMILCAR MAGAZINE GROUP
Alexandre Joulia, photographe et rédacteur en chef adjoint AMILCAR MAGAZINE GROUP
AMILCAR MAGAZINE à découvrir sur Linktree : https://linktr.ee/amilcarmagazine
AMILCAR MAGAZINE GROUP
ABONNEMENT Amilcar Magazine & THE RIGHT NUMBER MAGAZINE :
CLUB AMILCAR GROUP :