Art Photo Expo Production presents «Femmes, je vous aime»at the Hotel Plaza Athénée.
Beginning February 24 and until the end of April, the Garden Courtyard of the Hôtel Plaza Athénée will feature a sales exhibition of «Femmes je vous aime» as arranged by Art Photo Expo Production. A clear reference to Julien Clerc's song « Femmes, je vous aime » (Women, I Love You), this exhibition, as its title indicates, has been created to honor women, all women.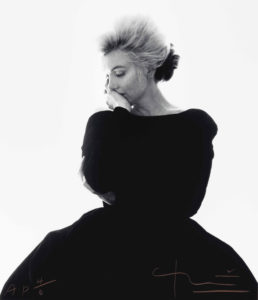 Marilyn Monroe 1962 © Bert Stern
Gentle, fatale, committed, fragile, emblematic or anonymous … they are at the forefront of current events and, more than ever, are getting their voices heard. However, artists have not been awaiting the present day to shed the limelight on women. Whether through their force or their frailty, a look, a smile or a subtle detail has sufficed to immortalize their femininity through painting, photography and sculpture. Thus, concomitant with the Paris ready-to-wear Fashion Week and International Women's Day, the Hotel Plaza Athénée and Art Photo Expo Production are joining together to produce an exclusive sales exhibition.
From February 24 to the end of April no fewer than 20 contemporary international artists will present their vision of femininity in the Garden Courtyard, 25 avenue Montaigne.
The exhibition alludes strongly to the song ''Femmes, Je vous Aime'' ©Jean-Loup Dabadie-Julien Clerc:
« quelquefois si drôle…» [So funny, at times], «…sur un coin d'épaule» [with just a bit of shoulder] or sometimes «seules» [alone] because that is what they want.
The exhibition will be accessible to the public from 9:00 a.m. to 8:00 p.m. A price list will be available upon request.
Firstly, attendant on the noblesse oblige of Haute Couture Fashion, in the famous Courtyard will be displayed photographs associated with some of the great names that are immortalized in association with Women of High Fashion, such as Ormond Gigli (1925 – ), an American photographer most well-known for his photograph « Girls in the Windows » where, in 1960, he had the audacity to have 43 women pose in the windows of a New York City brownstone that was slated for demolition the next day …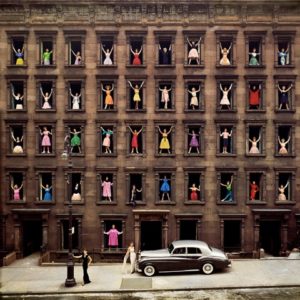 « Girls in the Windows, New York City », 1960 © Ormond Gigli
… as well as Michel Comte who photographed top models in the 90's, toppling the heretofore custom of spotlighting movie stars on the covers of women's magazines !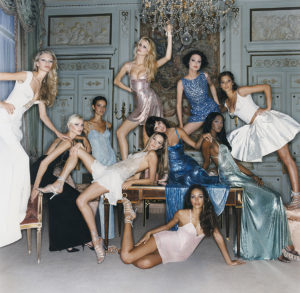 Supermodels pour Versace Couture, Paris 1994 © Michel Comte
A propos d'Art Photo Expo – ABOUT ART PHOTO EXPO
Véritable expert de l'art contemporain, Art Photo Expo a été créé en 2006. En 2007 et 2008, pour le Art Basel Miami, Art Photo Expo a produit les premières expositions-vente de photographies artistiques de grands maîtres sur plus de 2500 m2. La principal activité de Art Photo Expo est de promouvoir la créativité artistique au travers d'expositions thématiques ou de conseil en acquisition pour collectionneurs de tout horizon. Toutes les œuvres proposées par Art Photo Expo sont garanties comme des travaux originaux de valeur, signées par les artistes et / ou délivrées avec un certificat d'authenticité. Depuis plus de 12 ans, Art Photo Expo organise et produit des expositions thématiques pour des grandes entreprises, des grands hôtels ou des salons d'art…
A true expert in contemporary art, Art Photo Expo was created in 2006. In 2007 and 2008, for Art Basel Miami, Art Photo Expo produced the first exhibitions-sale of artistic photographs of great masters on more than 2500 m2. The main activity of Art Photo Expo is to promote artistic creativity through thematic exhibitions or acquisition advice for collectors of all horizons. All works proposed by Art Photo Expo are guaranteed as original works of value, signed by the artists and / or delivered with a certificate of authenticity. For more than 12 years, Art Photo Expo has been organizing and producing thematic exhibitions for large companies, large hotels or art fairs … Galerie Art Photo Expo : info@artphotoexpo.com
Dorchester Collection
Dorchester Collection is a collection of some of the world's greatest hotels located in Europe and the United States. Drawing on its unparalleled experience and skill in acquiring and running outstanding hotels, Dorchester Collection aims to develop an impeccable hotel portfolio. The goal is to put together a group of the world's greatest hotels by acquiring its properties directly, managing hotels, whether they are wholly-owned and part-owned, or by running them under a management contract. Dorchester Collection currently comprises nine hotels: The Dorchester, London; 45 Park Lane, London, Coworth Park, Ascot, UK; Le Meurice, Paris; Hôtel Plaza Athénée, Paris; Hotel Principe di Savoia, Milan; Hotel Eden, Rome; The Beverly Hills Hotel, Beverly Hills; and Hotel Bel-Air, Los Angeles. dorchestercollection.com