Alexandra Carlin, perfumer Symrise, laureate of the Talent of the Seduction 2019, prize awarded by the Center of Luxury and Creation, and a photo (credit © Eric Legouhy and Dominique Maître). « In many countries of the world, wearing a perfume is a bit like revealing one part of oneself to another.  »
Alexandra Carlin, parfumeur Symrise, lauréate du Talent de la Séduction 2019, prix remis par le Centre du Luxe et de la Création, ainsi qu'une photo (crédit ©Eric Legouhy et Dominique Maître). ''Dans beaucoup de pays du monde, porter un parfum est un peu comme révéler une partie de soi-même à l'autre. "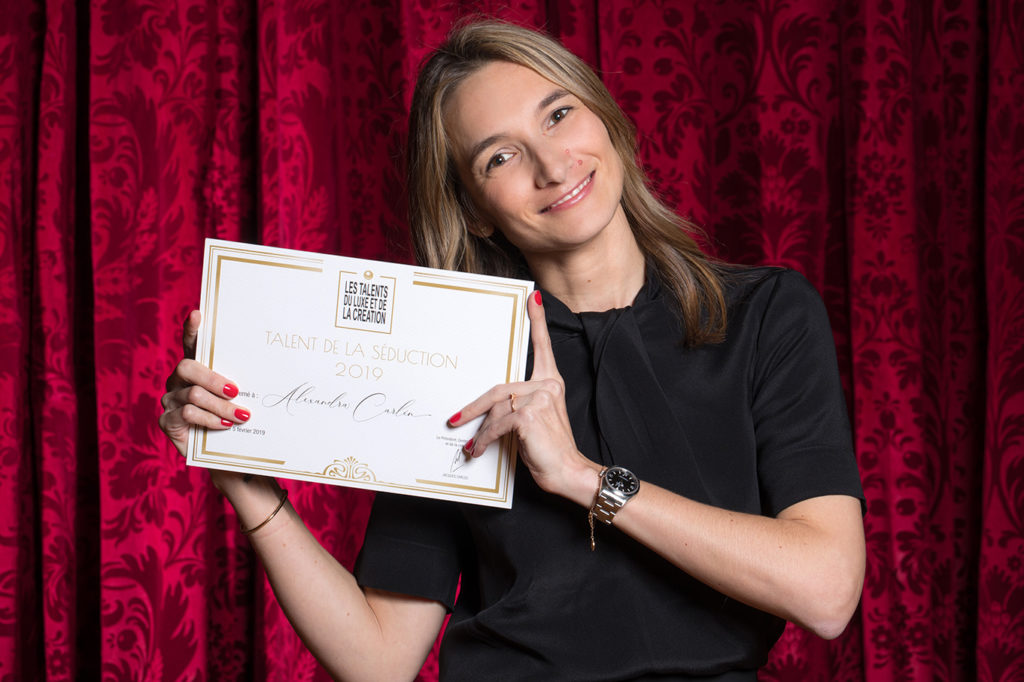 À propos de Symrise : Symrise est une maison de composition, fournisseur mondial de parfums, d'arômes, d'ingrédients actifs cosmétiques et de matières premières, ainsi que d'ingrédients fonctionnels. Ses clients comprennent des marques de parfums, de cosmétiques, d'aliments et de boissons, l'industrie pharmaceutique et les producteurs de suppléments nutritionnels et d'aliments pour animaux de compagnie. Ses ventes d'environ 3 milliards d'euros au cours de l'exercice 2017 font de Symrise un leader mondial sur le marché des saveurs et des parfums. Basé à Holzminden, en Allemagne, le Groupe est représenté dans plus de 90 endroits en Europe, en Afrique, au Moyen-Orient, en Asie, aux États-Unis et en Amérique latine. Symrise travaille avec ses clients pour développer de nouvelles idées et des concepts pour des produits qui font partie intégrante de la vie quotidienne. La réussite économique et la responsabilité des entreprises sont inextricablement liées dans le cadre de ce processus. Symrise « mieux vivre en parfum ».
About Symrise: Symrise is a composition house, a global supplier of fragrances, flavors, active cosmetic ingredients and raw materials, as well as functional ingredients. Its customers include fragrance, cosmetics, food and beverage brands, the pharmaceutical industry, and nutritional supplement and pet food producers. With sales of around € 3 billion in FY 2017, Symrise is a world leader in the flavors and fragrances market. Based in Holzminden, Germany, the Group is represented in more than 90 locations in Europe, Africa, the Middle East, Asia, the United States and Latin America. Symrise works with its customers to develop new ideas and concepts for products that are an integral part of everyday life. Economic success and corporate responsibility are inextricably linked in this process. Symrise « live better in perfume ».
À propos du Centre du luxe et de la création Pôle d'excellence en matière d'analyse stratégique, de prospective et de conseil, le Centre du luxe et de la création a pour vocation de mettre en œuvre les savoir-faire nécessaires pour inventer les voies d'avenir du luxe. Le credo de ce « Think tank » et « Do tank » ? « Mettre la création au centre du luxe », car elle est le moteur de son renouvellement permanent. C'est pourquoi, chaque année il remet les Talents du luxe et de la création pour récompenser puis accompagner les meilleurs créateurs qui sont la sève nourricière des ateliers et des entreprises du luxe.
About the Center for Luxury and Creation A center of excellence in strategic analysis, foresight and consulting, the Luxury and Creative Center aims to implement the know-how needed to invent paths of the future of luxury. The credo of this « Think tank » and « Do tank »? « Put creation at the center of luxury », because it is the engine of its permanent renewal. That is why, every year, he presents the talents of luxury and creation to reward and support the best creators who are the nourishing sap of workshops and luxury companies.