Enfin un site horloger pour tous et surtout pour la prochaine génération d'amateurs de montres qui cherchent à acheter leur toute première montre « sérieuse », sans aucune connaissance particulière en horlogerie. Les Pages des montres rassemblent 160 grandes marques, des milliers de montres et toutes les informations essentielles sur une même plateforme. Ce site Web unique vous permet de rechercher, comparer, découvrir et trouver votre prochaine montre.
At last a watch website for everyone and especially the next generation of watch lovers who are looking to buy their very first « serious » watch, without any particular knowledge of horology. The Watch Pages brings together 160 leading brands, thousands of watches and all the essential information together on one platform. This unique website allows you to search, compare, discover and find your next watch.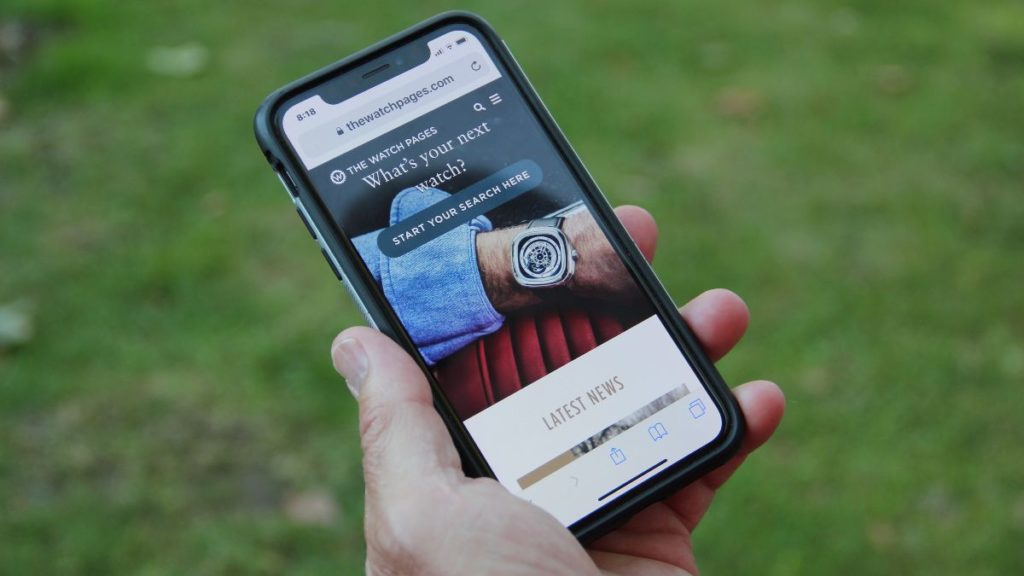 Unique et différent, c'est le premier site horloger qui s'adresse au grand public. Il a été conçu pour les non-aficionados par des professionnels de l'horlogerie et comprend la base de données horlogère la plus complète à ce jour, en constante évolution.
Le concept Aider tous ceux qui cherchent à acheter une montre neuve en leur offrant la possibilité de rechercher, comparer et découvrir des milliers de montres en un seul endroit, avec des prix, tout en explorant et découvrant le monde de l'horlogerie.
Quoi de neuf ? 160 grandes marques horlogères réunies sur une même plateforme, des milliers de montres à découvrir dans une impressionnante base de données, ainsi que des articles intéressants et divertissants accessibles à tous. Le site s'adresse à des personnes qui ne sont pas nécessairement des collectionneurs ou des experts, mais qui cherchent à acheter une nouvelle montre pour eux-mêmes ou pour un être cher.
Unique and different, this is the first watch website which targets the general public. It has   been designed for non-aficionados by watchmaking professionals and includes the most complete watch database to date, one that is constantly growing.

The concept To help everyone looking to buy a brand-new watch by offering the possibility for them to search, compare and discover thousands of watches in one place, with prices, while also exploring and learning about the world of watchmaking.

What's new? 160 leading watch brands together on one platform, thousands of watches to discover in an impressive database, along with interesting and entertaining articles that are accessible to everyone. The site targets people who aren't necessarily collectors or experts, but anyone who is looking to buy a new watch for themselves or a loved one.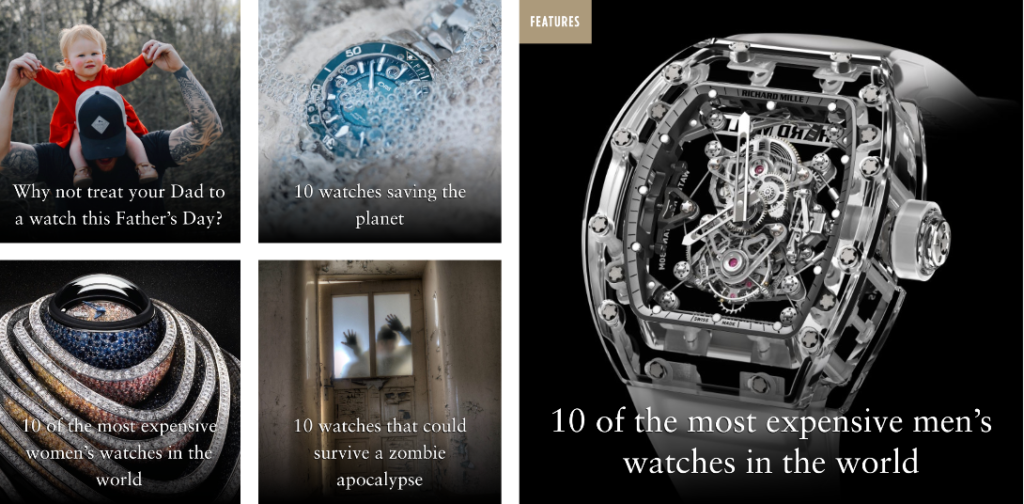 L'objectif L'achat d'une montre fine doit être facile et amusant. Il devrait créer le même plaisir que l'achat d'une voiture neuve, d'un sac à main élégant, d'une paire de chaussures ou d'un costume tout neuf.
Comment cela fonctionne-t-il ? Son utilisation est très simple. Les utilisateurs peuvent effectuer une recherche par budget, par couleur, par matériau ou par fonction. Il leur suffit d'entrer leurs critères et le site proposera un choix de modèles. Il s'agit d'une expérience en ligne unique, sans publicité ni pop-ups – juste des montres.
D'où est venue l'idée ? Les deux fondatrices, Sophie Furley et Susanne Samuelsson, travaillent depuis plus de 20 ans dans les médias horlogers spécialisés au sein de l'industrie horlogère suisse. Reconnus pour leur expertise dans le domaine, les gens leur demandent souvent « Quelle montre devrais-je acheter ? ou « Que me conseillez-vous ? », ce qui les a inspirés à créer The Watch Pages.
The objective The purchase of a fine watch should be easy and fun. It should create the same pleasure as buying a new car, an elegant purse, a pair of shoes or a brand-new suit.

How does it work? It is very simple to use. Users can search by budget, by color, by material or function. All they need to do is enter in their criteria and the website will propose a choice of models. It is a unique online experience without ads or pop-ups – just watches.

Where did the idea come from? The two founders, Sophie Furley and Susanne Samuelsson, have been working in the specialized watch media at the heart of the Swiss watch industry for over 20 years. Recognized for their expertise in the field, people are often asking them « Which watch should I buy? » or « What do you recommend? », which inspired them to create The Watch Pages.
Les sites des marques horlogères sont très bien faits, mais chaque site est un monde à part. La consultation site après site, page après page, prend beaucoup de temps, surtout quand on ne sait pas ce que l'on cherche. Les gens se tournent souvent vers Google, où ils peuvent tomber sur des sites officiels, des vendeurs d'occasion, des sites techniques, des forums, des blogs ou des revendeurs douteux.
The Watches Pages contiennent tout : des photos professionnelles en haute définition, des informations techniques vérifiées et classées, uniquement les modèles actuellement disponibles sur le marché et les prix en CHF, EUR et USD. Toutes ces informations permettent aux utilisateurs de faire de nouvelles découvertes grâce à des algorithmes qui proposeront différentes marques et différentes montres pour chaque recherche, sans être influencés par la publicité.
Que les utilisateurs recherchent une montre « sérieuse » ou quelque chose de plus « amusant », The Watch Pages est aussi simple que de trouver une chambre sur Airbnb, un vol sur Expedia, ou une nouvelle paire de baskets.
The watch brand websites are very well done, but each site is a world in its own. Consulting website after website, page after page, takes a considerable amount of time, especially when you don't know what you are looking for. People often turn towards Google, where they can stumble across everything from the official sites to second-hand sellers, technical websites, forums, blogs or dodgy dealers.

The Watch Pages has everything – professional high-definition photos, technical information that has been verified and classified, only models that are currently available on the market and prices in CHF, EUR et USD. All this great information gives users the opportunity to make new discoveries thanks to algorithms that will propose different brands and different watches for each search, without being influenced by advertising.

Whether users are looking for a « serious » watch, or something more « fun », The Watch Pages is as easy as finding a room on Airbnb, a flight on Expedia, or a new pair of sneakers.
Plus d'information : thewatchpages.com
More informations : thewatchpages.com