Tockr lance la collection de montres Skytrain, une marque de montres basée au Texas qui lance Classic New Aviation.
Collection de montres Inspired
Tockr Launches the Skytrain Watch Collection Texas-Based Watch Brand Debuts Classic New Aviation
Inspired Watch Collection
Tockr annonce sa dernière collection de montres d'inspiration aéronautique, connue sous le nom de Tockr Skytrain. La marque de montres indépendantes basée à Austin, au Texas, s'est fixé pour objectif de créer une nouvelle montre au design classique qui présente un cadran et des détails épurés tout en conservant l'ADN d'inspiration aéronautique qui caractérise la marque. Le nom du nouveau modèle, « Skytrain », renforce les liens historiques de la marque avec le monde du vol et l'iconique Skytrain C-47 Warbird.
Tockr announces its latest aviation-inspired watch collection known as the Tockr Skytrain. The Austin, Texas-based independent watch brand set out to create a classic new watch design that features a streamlined dial and detailing but retains the brand's signature aviation-inspired DNA. The new model's name, "Skytrain," reinforces the brand's historic ties to the world of flight and the iconic C-47 Skytrain warbird.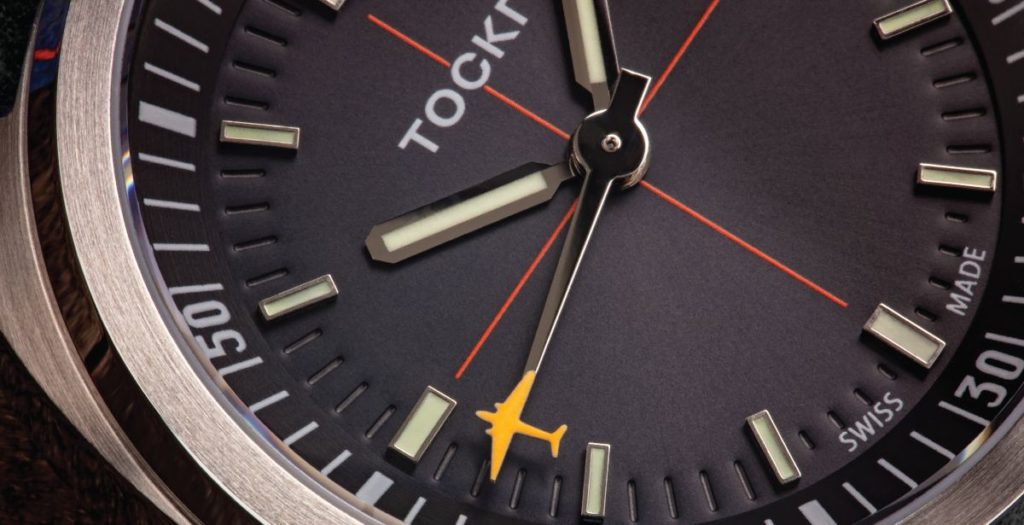 « Bien qu'il ait été difficile de choisir un nom pour la nouvelle collection, Skytrain s'est finalement démarqué parce qu'il renforce clairement le lien de la marque avec l'avion C-47 et l'héritage de mon grand-père « , a déclaré Austin Ivey, fondateur de Tockr. En tant que pilote de troisième génération, la passion d'Ivey pour le vol est aussi forte que son amour des montres. Le grand-père d'Ivey, le pilote décoré du C-47 Eugene Xerxes Martin, Jr. a piloté un « Skytrain » au cours de 52 missions différentes pendant la Seconde Guerre mondiale, et a plus tard nommé l'épicerie familiale de Dallas d'après le C-47. Compte tenu de cette histoire, l'avion C-47 « Skytrain » est devenu une inspiration récurrente pour Tockr et ce thème se poursuit au nom du nouveau modèle de Tockr.
Le design du cadran en croix du Tockr Skytrain et une aiguille d'occasion munie d'une icône d'avion lumineuse renforcent visuellement les liens de la marque avec le monde du vol. L'horloger indépendant a satisfait les demandes des collectionneurs pour un design Tockr classique et épuré en omettant une fenêtre de date et en se concentrant sur des détails subtils comme les index appliqués et les minuscules repères de piste en relief uniques.
"While it was difficult to choose a name for the new collection, ultimately 'Skytrain' stood out because it clearly reinforces the brand's connection to the C-47 aircraft and my grandfather's legacy," said Austin Ivey, Tockr Founder. As a third-generation pilot himself, Ivey's passion for flight is as strong as his love of watches. Ivey's grandfather, decorated C-47 pilot Eugene Xerxes Martin, Jr. flew a "Skytrain" on 52 different missions throughout World War II, and later named the family's Dallas grocery store after the C-47. Given this history, the C-47 "Skytrain" aircraft has become a recurring inspiration for Tockr and that theme carries on in the name of Tockr's new model.
The Tockr Skytrain's crosshair dial design and a second-hand tipped with a luminous airplane icon visually reinforce the brand's ties to the world of flight. The independent watchmaker satisfied collector requests for a streamlined, classic Tockr design by omitting a date window and focusing on subtle details like the applied indices and uniquely debossed minute track markers.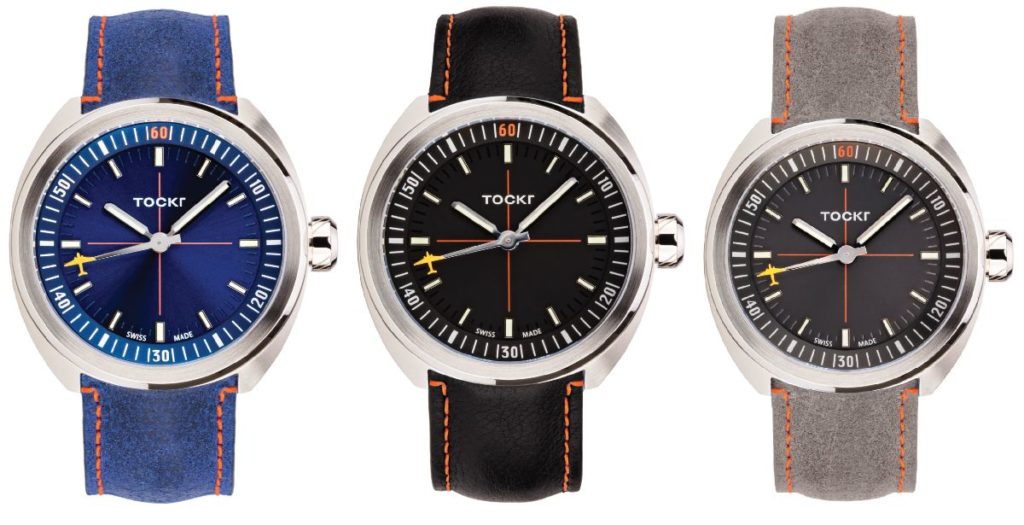 Les cadrans Skytrain de couleur bleu soleil, gris soleil ou noir mat, chacun avec le motif du réticule et les index des heures et les aiguilles des heures, minutes et secondes sont clairement visibles sous une glace saphir antireflet. Les index et aiguilles appliqués (y compris l'aiguille des secondes à pointe d'avion Tockr) sont également très bien éclairés dans l'obscurité. Chaque modèle Tockr Skytrain met également l'accent sur l'orange signature de Tockr à la marque des 60 secondes à 12 heures, le réticule et les coutures de bracelet. Chaque montre est également livrée avec deux options de bracelet : un bracelet en silicone et un bracelet en cuir de veau à texture vintage avec boucle à ardillon gravée de couleur assortie (bleu, gris ou noir).
Le Skytrain est né à Austin, TX, et fabriqué en Suisse. Chaque boîtier en acier 316L brossé et poli en forme de coussin de 42 mm contient un mouvement ETA-2834-A6 qui offre une réserve de marche de 42 heures. Le fond du boîtier massif comporte des gravures à la fois d'un motif de moteur radial, faisant référence à un avion Skytrain C-47, et d'un numéro de série unique. Le Skytrain offre également une étanchéité jusqu'à 50 mètres.
Skytrain colorways sunburst blue, sunburst gray, or matte black dials, each featuring the crosshair motif, and the applied hour indices and hours, minutes, and seconds hands are all clearly visible beneath an anti-glare sapphire crystal. The applied indices and hands (including the Tockr airplane-tipped seconds hand) are also vividly illuminated in darkness. Each Tockr Skytrain model also features an accent of Tockr's signature orange at the 60 second mark at 12 o'clock, the crosshairs, and strap stitching. Each watch also comes with two strap options: both a silicone and a vintage-textured calfskin leather strap with engraved pin buckle in coordinating color (blue, gray, or black).
The Skytrain was born in Austin, TX, and made in Switzerland. Each 42mm cushion-shaped brushed and polished 316L steel case contains an ETA-2834-A6 movement that offers a 42-hour power reserve. The solid case back features engravings of both a radial engine motif, referencing a C-47 Skytrain aircraft, and a unique serial number. The Skytrain also offers water-resistance up to 50 meters.
Plus sur : tockr.com
More on: tockr.com