Flammarion présente : Van Cleef & Arpels, Le Dictionnaire Merveilleux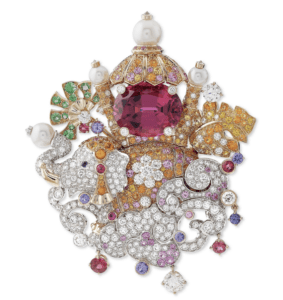 Un mémento poétique et intemporel, un voyage au cœur de l'univers et de la création du joaillier Van Cleef & Arpels.
Cet opus, conçu comme un répertoire alphabétique, explore les thématiques et les codes de la célèbre maison de joaillerie Van Cleef & Arpels. Des incontournables références historiques aux bijoux emblématiques, des techniques joaillières et horlogères spécifiques au savoir-faire unique qui imprègne les collections de haute joaillerie contemporaines, des collaborations artistiques aux actions de mécénat… La plume alerte de Fabienne Reybaud nous entraine au cœur d'un univers féérique où le merveilleux et la poésie restent les sources d'une inspiration et d'une inventivité sans cesse renouvelées, inextinguibles.
Cet ouvrage intemporel est magnifiquement illustré de petits mondes fabuleux, habités par les chefs-d'œuvre d'or et de pierres qui ont forgé l'identité et la réputation internationale du joaillier.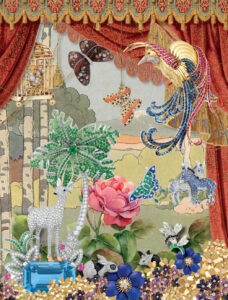 Informations :
Auteur : Fabienne Reybaud
Date de publication : 15 novembre 2023
Prix : 80 €
Format : 204 x 270 mm
Langues : français et anglais
Pages : 360
Relié sous jaquette
EAN : 9782080207029
ISBN : 9782080207029
ÉDITEUR : FLAMMARION
https://editions.flammarion.com/van-cleef-et-arpels-le-dictionnaire-merveilleux/9782080207029
Acheter sur en librairies et sur toutes les plateformes de vente partenaires.
FNAC : https://www.fnac.com/a18316749/Fabienne-Reybaud-Van-Cleef-et-Arpels-Le-Dictionnaire-merveilleux
Auteur : Fabienne Reybaud
Depuis 1989, Fabienne Reybaud est grand reporter spécialisée dans le domaine du luxe, notamment dans la joaillerie et l'horlogerie. Elle écrit pour les plus grands noms de la presse française et a publié plus d'une dizaine de livres dont 100 Montres de légende avec Frédéric Ramade (1999) ; Montres, le Guide l'Amateur (2006, 2010) ; Casa Lopez, un art de vivre avec Pierre Sauvage (Flammarion, 2018) ; Rolex, The Impossible Collection (2018), Tambour de Louis Vuitton (2022) ; Le Guide de la Joaillerie pour les vrais amateurs (2022).
Sélection : Rachel Joulia-Helou, rédactrice en chef AMILCAR MAGAZINE & THE RIGHT NUMBER MAGAZINE.
AMILCAR MAGAZINE GROUP

Selection by : Rachel Joulia-Helou, editor-in-chief of AMILCAR MAGAZINE GROUP.
Follow us on Instagram: @amilcarmagazine @amilcarusamagazine @amilcarbeauty
International Team :
Rachel Joulia-Helou, editor-in-chief of AMILCAR MAGAZINE GROUP.
Alexandre Joulia, photographer and deputy editor of AMILCAR MAGAZINE GROUP.
More information about AMILCAR MAGAZINE – AMILCAR USA – AMILCAR CANADA – AMILCAR UK MAGAZINE :
AMILCAR MAGAZINE GROUP :
AMILCAR MAGAZINE & THE RIGHT MAGAZINE ISSUE:
CLUB AMILCAR GROUP:
Discover our brands in the windows of the Club Amilcar on B Signature Group :
Discover our members in the windows of the Melià Paris Opéra hotel: Hôtel Paris Opéra Affiliated by Melia – Address in Paris: 3 Bd Montmartre, 75002 Paris – click here