Soleil de Corse – Rooibos, immortelle & rose Un thé qui vous invite au voyage.
L'empreinte de l'immortelle nous fait penser agréablement à la Corse. La Corse que j'aime tant avec ses senteurs du maquis. Un thé corse qui porte bien son nom et qui évoque le « Soleil de Corse ». Une idée cadeau délicieuse et chaleureuse pour un cadeau de Noël près du feu ! Rachel Joulia-Helou, rédactrice en chef The Right Number Magazine.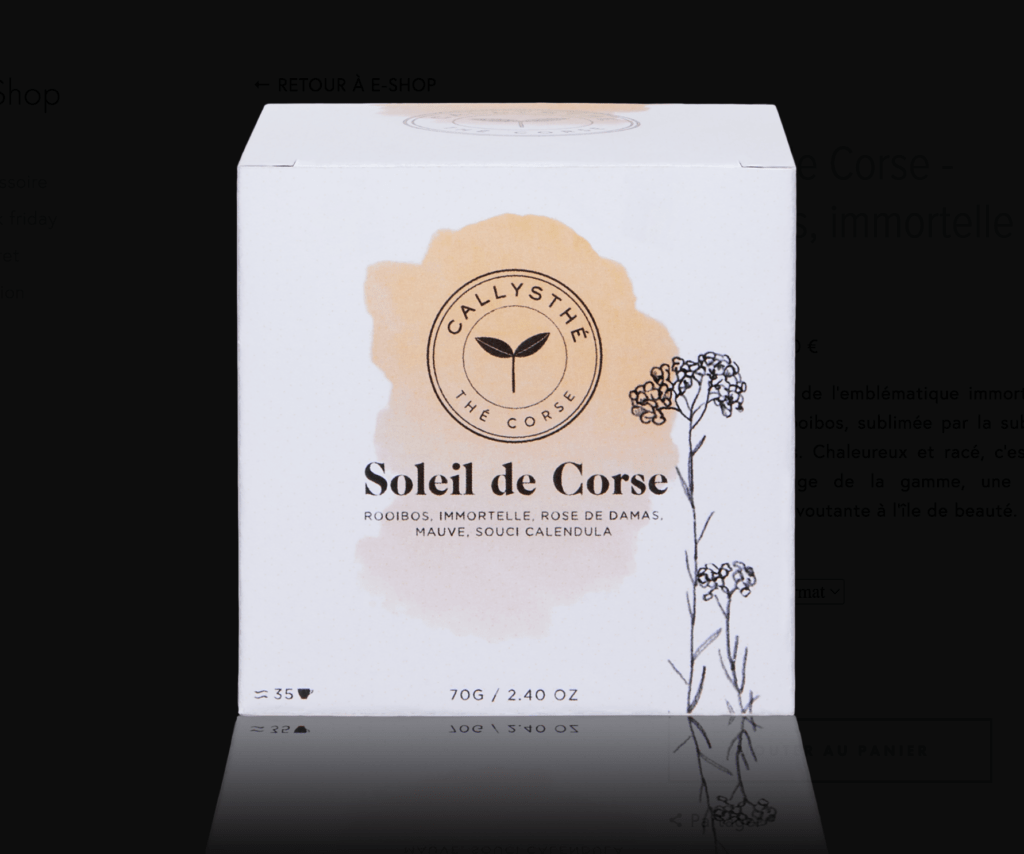 Conseils de préparation :
Chaud : Pour une tasse, versez l'équivalent d'une cuillère à café dans un filtre, ajoutez de l'eau frémissante et laissez infuser 4 à 5 minutes.
Froid : Versez 4 cuillères à café dans 1 litre d'eau et laissez infuser minimum 20 minutes à température ambiante. Filtrez avant de servir avec ou sans glace selon vos envies.
70g / 2.40oz environs 35 tasses
Ingrédients :
Fr : Rooibos, rose de damas, immortelle, mauve, soucis calendula, huile essentielle d'immortelle.
En : Rooibos, damask rose, immortelle flower, calendula, mallow flower, immortelle essential oil (helycrisum italicum).
Co : Rooibos, rosula, muredda, calendula, malba, oliu essenziale di muredda.
L'alliance osée de l'emblématique immortelle corse et du Rooibos, sublimée par la subtile rose de damas. Chaleureux et racé, c'est le premier mélange de la gamme, une ode sensuelle et envoutante à l'île de beauté. Prix à partir de 9,90 € (cliquez ici) – A découvrir sur le site Callysthé
Sélection : Rachel Joulia-Helou, rédactrice en chef The Right Number Magazine.