Pour la première fois en France, venez rencontrer le très joli couple Queenie/Jacob, interprété par Alison Sudol et Dan Fogler.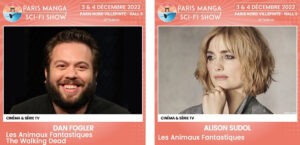 Paris Manga & Sci-Fi Show est le premier festival parisien de la pop culture ! Pour cette 32 ème édition, plus de 70 000 visiteurs sont attendus. L'objectif reste le même : partager et échanger avec les visiteurs sur des thématiques et univers très variés : culture et les traditions japonaises, comics, jeux vidéo, cinéma, séries tv, culture web, manga, animation japonaise, cosplay, arts martiaux, et plein d'autres choses encore ! Ainsi, et ce deux fois par an, Paris Manga et Sci-Fi Show reçoit une centaine d'artistes de tous horizons, notamment des acteurs de séries et de films cultes, qui viennent rencontrer leurs fans français : Smallville, Charmed, Buffy contre les Vampires ou encore Game Of Thrones et Stargate, des noms qui résonnent aussi bien pour les initiés que pour le grand public.

Dans cette optique, et après l'annonce, il y a quelques jours, de la venue de Mark Williams (Arthur Weasly dans Harry Potter), Paris Manga & Sci-Fi Show va une nouvelle fois ravir les fans du Wizarding World créé par J.K. Rowling avec la venue d'Alison Sudol et Dan Fogler.
Honneur aux dames, Alison Sudol a elle été révélée au grand public grâce à son interprétation dans le rôle de Queenie Goldstein dans les films à succès Les Animaux Fantastiques, issus de l'univers de Harry Potter. Mais gare à ne pas vous faire ensorceler comme Jacob par la voix de cette jeune sorcière qui interprète une chanson qu'elle a elle-même écrite dans une scène coupée du premier film.
Quant à Daniel Fogler, artiste aux multiples talents, il est celui qui incarne Jacob Kowalski dans Les Animaux Fantastiques ou encore Luke dans la série The Walking Dead. Actif aussi bien au théâtre que sur le petit et grand écran, Dan Fogler joue sur tous les registres allant des séries policières comme Hannibal ou Secret & Lies aux sitcoms avec Les Goldberg. C'est grâce au rôle de Jacob Kowalski dans Les Animaux Fantastiques en 2016 qu'il se fait
connaître du grand public. En 2018, il rejoint le casting de The Walking Dead avec le personnage de Luke qui deviendra un rôle récurrent à partir de la saison 9.

Cela vous fait rêver ? Tant mieux, les espaces de dédicaces seront à votre disposition pour rencontrer les invités de votre choix tout au long du festival, ils sont nombreux à avoir fait le déplacement depuis le monde entier pour vous rejoindre ! En plus, toutes les conférences sont publiques et gratuites !

Éditeurs, boutiques, jeunes artistes et créateurs, magazines, webzines, expositions, associations et fanzines, vous retrouverez tous les acteurs des univers de la Pop Culture sur notre festival ! Chacun pourra trouver son bonheur dans la multitude de stands différents qui viennent sur le festival. Des rencontres, des passions, des émotions…

Paris Manga & Sci-Fi Show, une aubaine pour tous les fans de Pop Culture, à ne
manquer sous aucun prétexte.
3 et 4 DÉCEMBRE 2022
Paris Nord Villepinte – Hall 5

Propos : Tommy Paulmaz