HOM collabore avec l'artiste peintre Lucas Beaufort pour donner naissance à une ligne exclusive de sous-vêtements et maillots de bain, vendue uniquement sur Hom.com.
HOM collaborates with painter Lucas Beaufort to create an exclusive line of underwear and swimwear, sold only on Hom.com.

GRAFFITI BOY est un boxer en coton modal, composé d'un imprimé exclusif de l'artiste, représentant de petits personnages dans des tonalités de noir et de blanc. Des monstres et personnages colorés envahissent l'imprimé ultra tendance du boxer, LUCAS B.
GRAFFITI BOY is a modal cotton boxer, composed of an exclusive print of the artist, representing small characters in tones of black and white. Monsters and colourful characters invade the ultra trendy boxer print, LUCAS B.
L'artiste signe un short de bain qui reprend l'imprimé très coloré du modèle « Lucas B » ainsi qu'un boxer de bain, décliné dans des tonalités de bleu.
The artist signs a swimsuit shorts that uses the very colourful print of the « Lucas B » model as well as a swim boxer shorts, available in blue tones.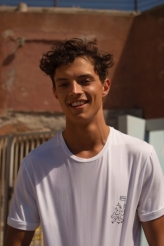 Clin d'œil de Lucas Beaufort à son univers « skate » à travers son petit personnage, Gus Gus qui a pris place sur le tee-shirt blanc à col rond qui vient compléter cette collection.
Lucas Beaufort's wink at his « skate » universe through his little character, Gus Gus Gus, who has taken his place on the white round-neck t-shirt that completes this collection.
Plus d'informations sur : LucasBeaufort-Collections
More information on : LucasBeaufort-Collections