THE RIGHT NUMBER MAGAZINE vous présente la marque JULY OF ST BARTH et ses dernières actualités.
LA MARQUE « JULY OF ST BARTH » :
La marque July of St Barth est une marque française qui valorise l'art de vivre à Grasse (France) mais aussi à l'étranger. La marque est présente dans plus de 73 pays ! Créée en 1989 par Juliette Espinasse Dubois, la marque July of St Barth est spécialisée dans la création de parfums, d'accessoires de mode et de produits de beauté. Depuis 20 ans, Juliette coud sur ses chapeaux les coquillages de SHELL BEACH, sa plage favorite à Saint-Barthélemy où elle a vécu pendant plusieurs années… La marque a fêté cette année ses 30 ans ! Un nouveau point de vente dans le Luberon vient de s'intéresser à la marque JULY OF SAINT BARTH, et un autre est à venir à Dubaï.
Juliette Espinasse Dubois, fondatrice de JULY OF ST BARTH :
Passionnée de parfums, depuis toute petite, je collectionne les fragrances (plus de 20 000 flacons de parfums à ce jour). C'est pourquoi, j'ai crée ma propre de collections de parfums JULY OF ST BARTH. Chaque parfum dévoile une vision, un sentiment, un voyage, une expérience …

Je me passionne également pour la mode… J'ai ainsi développé plusieurs collections d'accessoires de mode avec des pièces uniques et des collections éditions limitées de chapeaux et maintenant je propose des produits de beauté, grâce à mon expertise de nez depuis plusieurs années. J'ai lancé cette année un rouge à lèvres (baume à lèvres) qui est naturel, biologique et non testé sur les animaux (végétalien) !

Juliette Espinasse Dubois, fondatrice de la la marque July of St Barth
Juliette Espinasse Dubois est une créatrice de parfums et d'accessoires haut de gamme et la fondatrice de la marque July of St Barth. Elle a récemment été décorée Ambassadrice des Arts et de la Culture à l'hôtel Four Seasons George V, à Paris. Elle a également dévoilé un projet de magazine numérique sur les sens et les parfums à découvrir sur sa page Facebook Perfums Fashion & Art Magazine.
Juliette, la fondatrice de July of St Barth, a organisé un défilé de mode à Grasse le 18 août 2020 qui fut un grand succès. Elle a ainsi dévoilé ses dernières créations de robes de mariée, sa collection de maillots de bain et bien d'autres créations uniques. Ce fût un défilé pleine de surprises en présence de plusieurs personnalités dont Monsieur le Maire de la ville de Grasse.
En tant que membre du Club Amilcar, July of St Barth est mise en avant dans les vitrines du Club Amilcar au sein de deux hôtels d'exception.
« Vous pouvez trouver mes parfums aux emblématiques hôtels Montalembert et Bel ami ainsi que chez Ambiance dans la Galerie Des Arcades sis 76 Av. des Champs-Élysées, 75008 Paris.

En tant que membre du Club Amilcar, ma marque JULY OF ST BARTH est mise à l'honneur dans les vitrines du Club Amilcar dans deux hôtels d'exception du Groupe B Signature : l'hôtel Bel Ami et Montalembert. »

Juliette Espinasse Dubois, créatrice de la marque JULY OF ST BARTH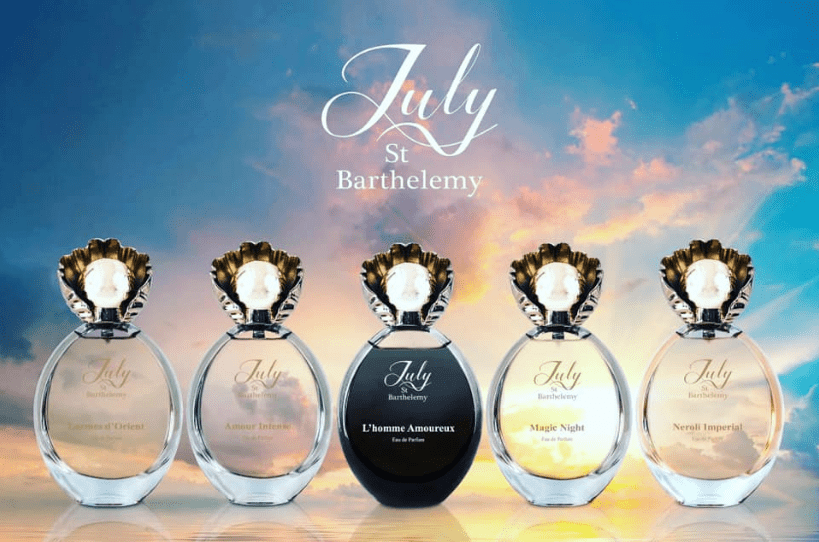 HÔTEL MONTALEMBERT : Hôtel boutique exceptionnel sur la rive gauche, à quelques pas du Louvre. Le premier boutique hôtel 5 étoiles au cœur de la Rive Gauche. Construit en 1926, l'Hôtel Montalembert est le premier boutique hôtel 5 étoiles de la Rive Gauche et se distingue par sa dimension littéraire et son atmosphère chic et intimiste. Aménagé dans un élégant bâtiment construit en 1926, cet hôtel haut de gamme est situé dans le quartier de Saint-Germain-des-Prés. Adresse : 3 rue de Montalembert, 75007 Paris – France. Réservation : https://www.hotelmontalembert-paris.com/
HÔTEL BEL AMI : Découvrez l'hôtel Bel Ami, un hôtel 5 étoiles de charme. Une adresse contemporaine au cœur de Saint-Germain-des-Prés … Séjourner à Saint-Germain-des-Prés, c'est vivre dans le Paris des artistes. Découvrez l'hôtel Bel Ami, un hôtel 5 étoiles, au cœur du 6ème arrondissement (Rive Gauche). Adresse : 7 Rue Saint-Benoît, 75006 Paris – France. Site : https://www.hotelbelami-paris.com/
Concept store et maison de parfum JULY OF ST BARTH :
14, Place aux Aires – 06130 Grasse – France
Horaires : Ouvert du lundi au samedi : 10:00 – 19:00
Site internet : https://www.julyofstbarth.com