La marque BonneGueule ne se cesse de se développer. Cette marque haut de gamme française basée à Paris ouvre plusieurs boutiques en région : après Paris, Lyon, Bordeaux, Lille, la marque BonneGueule a ouvert une nouvelle boutique à Nantes en décembre 2021, suivi de Rennes le 7 Janvier 2022, puis Strasbourg et Toulouse à venir.
BonneGueule est une marque de vêtements haut de gamme pour hommes et femmes, média indépendant de mode masculine avec une éthique globale (transparence, savoir-faire, durabilité des vêtements, engagement social et environnemental).
La mission de BonneGueule depuis toujours : permettre aux hommes, et depuis peu aux femmes aussi, de se sentir bien dans leurs vêtements et leur faire vivre une expérience de mode avec des convictions.
Fort de cette position sur le digital, BonneGueule continue de développer son réseau physique, avec l'ouverture de sa boutique en propre, située à Nantes en plein centre-ville (13 rue Crébillon).
L'ouverture de chaque boutique est l'occasion d'inviter à une promenade architecturale singulière.
« Nous sommes très heureux de pouvoir enfin ouvrir une boutique à Nantes, ville où nous comptons déjà de nombreux lecteurs et clients. Nous espérons que les Nantais et Nantaises apprécierons nos vêtements riches en savoir-faire et en patrimoine, avec un style résolument contemporain, à l'image de leur ville. »

Geoffrey Bruyère, co-fondateur de BonneGueule.
Après l'ouverture de la boutique à Nantes en décembre 2021, BonneGueule a ouvert une magnifique boutique à Rennes le 7 janvier 2022.
Chaque boutique BonneGueule a une vraie signature propre avec une identité locale. L'adresse est emblématique à Rennes, 6 Rue Lafayette. BonneGueule a souhaité créer son histoire, partager une expérience client unique tout en valorisant l'identité de la région. C'est ainsi que la marque BonneGueule a été développée avec Label Expérience.
A PROPOS DE BonneGueule :
En 2007, la marque BonneGueule est née d'un blog devenu un média indépendant, qui explore la mode masculine sous toutes ses coutures : conseils en style, tests de marques, idées de looks…, le tout sans la moindre publicité. C'est aussi, depuis 2014, une collection de vêtements de qualité qui promeut les savoir-faire textiles et la consommation responsable. Enfin, c'est une communauté qui souhaite consommer mieux, tout en y prenant du plaisir.
BonneGueule est le premier site de mode masculine en France avec plus de 5 millions de visiteurs par an. Après plus de dix ans dans la création de vêtements pour hommes, il était temps… Le temps de proposer de la vraie qualité aux femmes également. BonneGueule souhaite ainsi transmettre son amour des belles matières avec une éthique et un engagement dans le processus de fabrication.
En savoir plus : https://www.bonnegueule.fr/
Boutique : https://shop.bonnegueule.fr/
A retrouver sur THE RIGHT NUMBER MAGAZINE, sortie en février et disponible sur la Fnac, Cdiscount, Viapresse.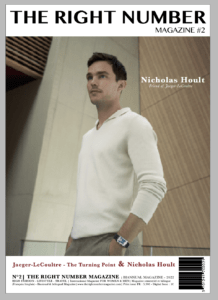 Abonnement Amilcar Magazine & THE RIGHT NUMBER MAGAZINE:
Sélections : Alexandre Joulia-Helou, rédacteur adjoint en Chef The Right Number Magazine & du groupe Amilcar Magazine.