Pour que vos nuits soient aussi belles que vos journées d'été rythmées par les activités, Méribel vous propose une petite sélection de ses plus beaux hôtels, refuges et chambres d'hôtes…
To make your nights as beautiful as your summer days with activities, Méribel offers you a small selection of its most beautiful hotels, refuges and guest rooms…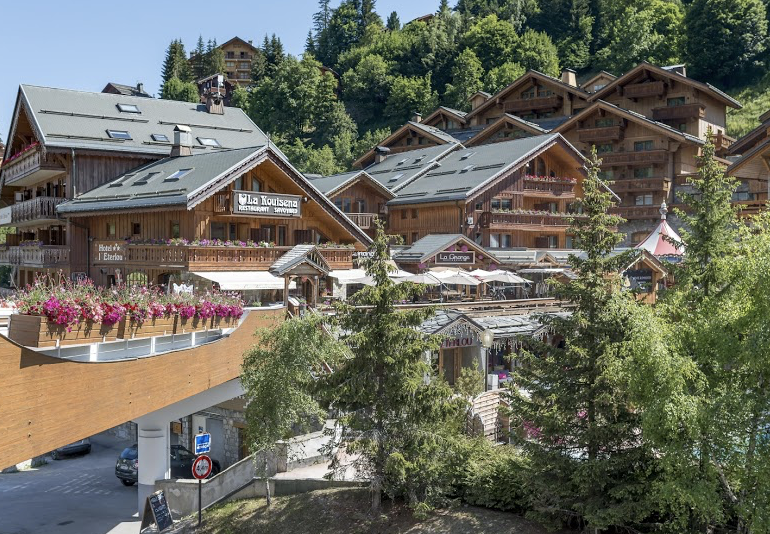 L'hôtel Méribel la Chaudanne **** ouvre ses portes tout l'été. Chalet qui allie charme et tradition, la Chaudanne est situé, à quelques pas du bike park et des départs d'itinéraires en randonnée.
The Méribel la Chaudanne **** hotel opens its doors all summer long. A chalet that combines charm and tradition, La Chaudanne is located a few steps from the bike park and the start of hiking trails.
Contact : 04 79 08 61 76 & www.chaudanne.com
l'hôtel Éterlou*** accueille les vacanciers tout l'été à Méribel. Cet hôtel familial offre une vue panoramique sur les montagnes alentours !
the hotel Éterlou*** welcomes holidaymakers all summer long in Méribel. This family hotel offers a panoramic view of the surrounding mountains!
Contact : 04 79 08 89 00 & www.hoteleterlou.com
Le refuge du Christ. Cette petite maison dans la montagne, face au Mont-Blanc, combine plaisir écolo et art de vivre.
This small house in the mountains, facing Mont-Blanc, combines ecological pleasure and lifestyle.
Contact : 06 95 73 20 90
Situé dans le périmètre de la réserve naturelle du Plan de Tuéda, le refuge du Saut est le camp de base idéal pour tous les randonneurs et amateurs de haute montagne.
Located within the boundaries of the Plan de Tuéda nature reserve, Le Saut refuge is the ideal base camp for all hikers and high mountain lovers.
Contact : 09 74 77 60 38 – 06 60 43 29 89 & www.refuges-vanoise.com